Wednesday Reflection: April 20, 2022
April 20, 2022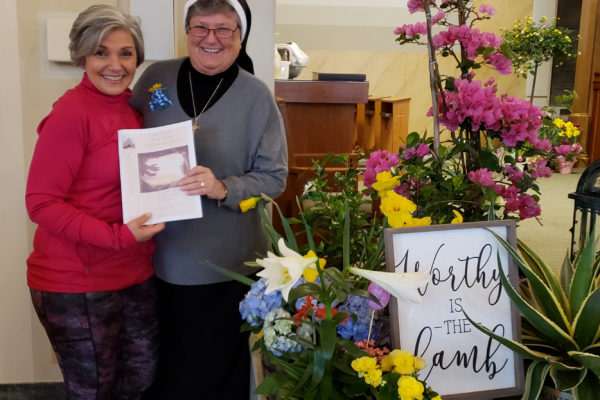 Dear Friends,
We can now sing with our whole heart and soul: ALLELUIA, ALLELUIA, ALLELUIA! For Christ has truly risen!
I pray that you had a blessed Easter and that you are ready to celebrate the Easter Season with Joy, sharing the Good News that Jesus is ALIVE, alive in each one of us!
I ask that you to be so kind as to allow me to share with you parts of a reflection I heard during morning prayer on Holy Saturday. The piece was written by Maria Sehne, our faith-filled bulletin editor and parishioner. Since hearing it, I have not been able to get the thoughts out of my mind. I think you will find it a perfect jumping off point to enrich your Easter Season journey. So let me begin:
"It is finished…Words expressed to my brothers when my mom took her last breadth… I wept and laid down inside the tomb of grief…
It is finished… We are sorry, but your position has been eliminated… Words said to the single parent of three young children… She wept and laid down inside the tomb of despair.
It is finished…Your child is diagnosed with Down Syndrome… Words spoken to parents expecting their first child… They wept and laid down inside the tomb of confusion and grief.
It is finished… Your child was found drinking alcohol behind the school building… Words shared by the principal to the parents of a 13-year-old… They wept and laid inside the tomb of embarrassment and shame.
It is finished…Dad, we are sorry, you won't be able to go home alone after rehab, we found a nice place to care for you and we will visit you every chance we get… A father wept and laid down inside the tomb of aging, disappointment, and loneliness."
Every time I heard the words It is finished, I heard the bang of the nails used to put Jesus on the cross. My body actually shivered. Maria also shared that Holy Saturday brings with it two opposing emotions, the longing and waiting and then the Joy-filled Anticipation of Sunday!
I kept thinking of the tombs I've experienced and wondered how I was able to get out of them. First of all, I had to make the decision to get out of the tomb. Then by myself or with the help of others, I emerged out of the tomb radiant, for Christ was alive in me! The feeling was exhilarating; that which seemed like the end was another beginning.
Maria reminded me, "Yes, there will be moments, days, journeys that bring us back inside of that specific tomb, and it's okay to visit, to compose, to vigil, but our Lord will not leave us orphans. He will lift us up through His undying love for us; He will appear to us along the journey through the hands, hearts, and voices of His servants and He will raise us up."
During this Easter Season, there is much to think and remain excited about. How to keep the Resurrection Alleluias alive is a challenge I hand off to you. What tombs are you in? Are you willing to risk coming out? How will your life be changed? I know I will be challenged by these questions, as they call for a conversion, a need to move from my comfort zone.
Can we do it? Yes, we can!
Till next week,
Sister Theresita
Note: Pictured here alongside Sr. Theresita Donach is Maria Sehne.