Wednesday Reflection: June 8, 2022
June 8, 2022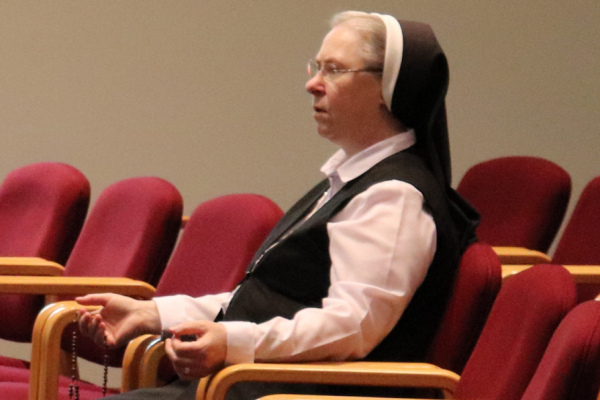 Dear Friends,
Choices, Choices, and more Choices! Have you ever walked into the store for one item and found yourself staring down 20 different types of the item? Take something as simple as toothpaste, for example… so many varieties!
Or perhaps, what do you want for breakfast? We have…
Where do you want to go for lunch or dinner? Let's see…
The answer to these questions can be as simple or complicated as we make them.
All of us are asked to make many choices each day, in every waking moment. Some of them are small and others are monumental! It is a perfect time to learn to be very mindful of the present moment and live it to the fullest.
Recently, we celebrated the feast of Pentecost. There were choices the Apostles had to make. Once they received the gifts of the Holy Spirit, what were they to do? Scripture tells us what they decided: they went out and preached the Good News. History tells us that they were not always welcome where they traveled, and yet they continued on, some even giving their life.
Have you taken the time to recognize the gifts of the Spirit within you? They are there. You have choices to make. My friend Virginia just shared a quote about Pentecost that I would like to share with you:
"Pentecost is an invitation to dream. For when a community of faith quits dreaming dreams, it has little to offer either its members or the wider world. These dreams involve adopting a new perspective on what's possible, rousing our creativity to free us from conventional expectations. They help us see that maybe what we thought was outlandish actually lies within reach." - Matthew L. Skinner, Pentecost: When Christians Dream
Wonderful things can happen when we pay attention to the Spirit. I want to share with you something that happened to me a few years ago, while living in Illinois.
Something was tugging at me to make the trip down to Northwestern University even though I had multiple projects to complete. When I arrived and mingled with the students, I was glad I made the trip. What even made my day better was when a man I did not know approached me and said, "I know God is telling me to come over to you and give you this cross". Little did he know, right before I left the house, a Sister had asked me to get more crosses for our project. I had run out of resources and places to find them. Well, here he was, and problem solved!
Sometimes we just have to let go and listen. Asking too many questions and wanting to know how it will all turn out may not be the answer. Many times, one question leads to many more, with no concrete answers in sight. What is important here? We must learn to walk the path of mindfulness in our everyday lives.
A really good book which I received as a gift is Peace Is Every Step by Thich Nhat Hanh, with the forward written by the Dalai Lama. The short reflections and exercises help us to slow down and work through all the Choices. It even has a Hugging Meditation!
My prayer for you this week is that you take the time to make the choices that will enrich your life and the lives of those around you. May Peace be your constant companion.
Till next week,
Sister Theresita