A 'mini view' into the lives of our Nowogrodek Martyrs
August 27, 2022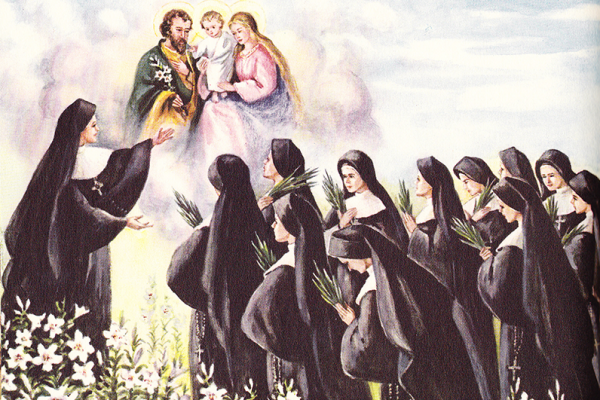 Just a few weeks earlier on August 1st, we commemorated the heroic witness of Blessed M. Stella and her Ten Companions, Sisters of the Holy Family of Nazareth, who sacrificed their lives on August 1, 1943 in Nowogródek, then Poland. The sisters were declared Blessed, by virtue of martyrdom, on March 5, 2000, by Pope St. John Paul II. September 4th marks the Feast Day for the Blessed Martyrs of Nowogródek, which is an important day in Nazareth as it reflects the day when the Sisters of the Holy Family of Nazareth first came to Nowogródek, in 1929.
In honor of the Feast of the Blessed Martyrs of Nowogródek, we share with you a text from a presentation entitled ''Vindication & Glory'' by Sr. Rita Kathryn Sperka, CSFN (1934-2014), given Holy Family University's two-day conference: 70 Years Later: The Global Impact of the Holocaust" in 2009.
We invite you to read along, and have a 'mini view' into the lives of each of these brave sisters:
Sr. M. Stella (Adele) Mardosewicz
Before entering the Sisters of the Holy Family of Nazareth (CSFN), Sr. Stella had completed a clandestine teacher-training program run by the CSFNs in Vilnius. Thanks to that experience, she knew how to live under stressful situations. Because the preceding [Nowogródek,] superior never returned from a meeting in Vilnius, Sr. Stella assumed all the responsibilities of that office and displayed loving concern for the sisters and the people. During the Russian occupation, the sisters were scattered and lived in different places, some with families who had room for one more person. Her skillful adaptation to reality can be noted in an excerpt from a letter she sent to the Superior General in Rome:
Dearest Grandmama,

I have not written because I thought that my letters would not reach you. Instead, I asked someone who was heading in your direction to tell you all about us. Grandma, by now you know that we have had to change our place of residence. We work wherever we can in order to buy a piece of bread and, thanks to our most wonderful Father, so far we have not experienced want. Hopefully, we will not run short of anything until the end...This year, we have had a very long, hard winter.

We received word that you were very ill, Grandma, but are feeling better. We rejoice immensely and hope that we will be able to see you soon. We all desire to be united with one another as soon as possible. We have been informed of everyone who has died...and remember them to our best Father.

The whole family unites with me in warmly embracing you, our dearest Grandma.

Stella
Sr. M. Imelda (Hedwig) Zak
Born in the Austrian sector, Sr. Imelda entered the Congregation at 19. While working in a school conducted by the Congregation, Sr. Imelda continued her own education and in June 1914, she received her license as a certified kindergarten teacher in Lwow, presently known as Lviv in Ukraine. She had a fantastic sense of humor and could laugh at her own mistakes. One story that she enjoyed telling was the result of a play on words. Prior to her assignment in Nowogródek, when a school inspector arrived one morning, the superior whispered to her as she passed her on the corridor: "Please bring some teach sandwiches (kanapki)." Within a few minutes, Sr. Imelda appeared in the parlor carrying a sofa with the aid of another sister. Since she thought that Sr. Fides, the superior, had said kanapa, which means 'sofa,' she brought the wrong thing and everyone had a good laugh.
Sr. Imelda spent her last years of life as sacristan in the Fara. She was also the organist and instructed the boys who assisted the priest during religious services. They and her former students spoke of her as an excellent teacher.
Sr. M. Raymond (Anna) Kukolowicz
Sr. Raymond came from the Russian sector, near Vilnius. She was assigned to domestic duties that she readily fulfilled despite suffering from severe arthritis. during the Russian occupation, Sr. Raymond was one of the persons employed to clean the school and she sought to share everything she had with the others. One of the sisters who had lived with Sr. Raymond observed that "she shared everything with them, to the last crumb of bread. She was so filled with sisterly love and ... was a perfect example of the word magnanimity." During their last evening prayer together before reporting to the commissariat, Sr. Raymond requested that they sing a joyous hymn to the Virgin Mary entitled Heaven Resounds with Joy.
Sr. M. Daniela (Eleanor Angela) Jozwik
Sr. Daniela came from another region of the Russian sector and her parents opted not to send her to school. In Nowogródek, she was responsible for the school kitchenette and the sisters' dining room. Working in the school provided her with the opportunity to be attentive to the needs of the children, especially the poor. "During the main lunch break, Sr. Daniela would walk among the children, noting who had forgotten to bring their lunch, and then she'd quickly come to their assistance. On the cold winter evenings when the teachers continued working after school, she should bring them something warm. Throughout her entire life, Sr. Daniela practiced an active love for her neighbor." Fr. Zienkiewicz characterized her as "a meek, discreet, guardian angel."
Sr. M. Canuta (Josephine) Chrobot
Sr. Canuta's story is unique. She was engaged to be married to Stan when one night in a dream, she heard the directive not to marry him because her bridegroom waiting for her in Grodno (a place which she was not familiar) and that he would give her a red dress.
Perplexed and misunderstood by everyone, she decided to go on pilgrimage to the Shrine of Our Lady of Czestochowa. Praying in the special chapel, she distinctly heard an inner voice instructing her to enter a convent. she had never met a consecrated religious but when she saw two sisters leaving the chapel, she followed them. Upon catching up to them, she told them that she wanted to enter their congregation. They invited her and her mother to accompany them to their convent to meet the superior. During the interview, the superior outlined the steps that were needed to enter a religious congregation and mentioned that [Josephine] would eventually go to Grodno for her novitiate, a period of initial formation. She was stunned to hear "Grodno" and interpreted that as a confirmation of God's will for her.
On the day she pronounced her vows, she said, "The dream has been fulfilled, but not entirely. Where is my wedding present? I already have my spouse, but where is my red dress?"
From the position of Sr. Canuta in the common grave, it appears that [she] was buried alive, covered in her own blood and the blood of her fellow religious sisters. At that moment, Sr. Canuta would have understood the meaning of the RED DRESS.
Sr. M. Sergia (Julia) Rapiej
Also, from a Russian sector of Poland, Sr. Sergia's parents did not permit her to attend a Russian school. Though her formal education was nonexistent, she entered the Sisters of the Holy Family of Nazareth on Dec. 25, 1922. On Aug. 4, 1925, she was among the group of sisters who left for the United States. She completed her novitiate in Des Plaines, IL, and arrived in South Philadelphia in August 1926, where she fulfilled domestic services in the convent. However, most of her time was spent right here in Torresdale. I had an opportunity to speak with two of our elderly sisters who had very vivid recollections of Sr. Sergia that almost verbatim matched the testimony of the Nowogródek, witnesses who spoke of her virtuous life centered on God and love of others. [She] felt the need to return to Poland and when she was offered that opportunity, she expressed herself to one sister in almost prophetic terms. sister stated: She was convinced that She has nothing else to give our Lord for his great love than to want to give him her life. She is not afraid of martyrdom.
[Later], when Sr. Malgorzata and her friends went into the woods, and Sr. Malgorzata began to dig in the area of the fresh mound, the object that she hit was Sr. Sergia's leg, for she pulled up a piece of clothing marked with [Sr. Sergia's] identification. Thus, the location of the burial of the sisters was confirmed.
Sr. M. Gwidona (Helen) Cierpka
If Sr. Gwidona were alive today, she would be considered an environmentalist. Her love of everyone and all creation was evident. The farm and garden were her responsibility. In the spring of 1943, a neighbor sent his son with horse and plow to help her till the earth in preparation for planting. While speaking with the young man, Sr. Gwidona petted the mare and then chided him for making the horse sweat. Acknowledging her concern, but needing to vent his displeasure about the town administrator, [the young man] Alexander informed sister that the fine heifer she had set aside for a needy family had been sent to a butcher in a neighboring village. The youth continued: sister turned away so that I could not see her pained reaction. Her piglets had also disappeared ... (suddenly) I noticed a tall, overgrown mound. I saw a horrible sight underneath it. The melting snow revealed the body of a young 20-year-old Jewish man. He had been executed and never buried because the snow had covered his body.
Looking at this savage Nazi calling card, I became furious. After [the young man] finished his tirade, Sr. Gwidona said: Listen, I understand everything (that you're saying) ... I don't know who will gather the harvest from this field. But of one thing I am certain, and that is that the land needs to be looked after. We need to do this for the good of the soil.
Under those conditions, no environmentalist could have spoken more eloquently in defense of God's creation.
Sr. M. Felicita (Pauline) Borowik
At the age of 27, Sr. Felicita entered the Sisters of the Holy Family of Nazareth. Her mother had died when she was only nine days old. Reared by an extended family, she was quiet and shy while growing up on a farm. Even though she had been diagnosed with a serious heart condition, she kept as busy as a bee. "During the Russian occupation, she had been hired to clean the school that had been taken away from the sisters. The heartbreaking changes in the school, along with the difficult ... hostile conditions" placed immense stress upon her.
One townsperson had recalled hearing her say: How the weight of the Cross draws one closer to God! Alexander Zwierko's observation of Sr. Felicita is worth quoting: She was a frail flower that seemed to step aside for everyone ... She was meek and upright, never sought even the smallest gratification ... Always accommodating and very grateful to the Congregation for the opportunity to live in Nazareth, (she) was frequently absorbed in prayer ... and the Cross was her only love. She was fervently attracted by this love.
Sr. M. Heliodora (Leocadia) Matuszewska
In contrast, Sr. Heliodora lived up to the underlying Greek meaning of her name and displayed a very sunny disposition. She was energetic, industrious, agile and talented. Whatever she undertook produced positive results. Mothers of the school children would frequently chat with her because she had such an uplifting personality. She possessed a healing balm that was definitely divine joy, which radiated from her upon her environment.
During the Russian occupation, the Soviet director of the school indicated that he would allow the sisters to be present in the school if one of the sisters became his housekeeper. He personally selected Sr. Heliodora. By her example, she was instrumental in bringing about the conversion of the atheist director and his wife to Catholicism and had been requested to instruct their son in the teachings of the Catholic Church. As the Nazi forces pushed the Soviets into retreat, the director entrusted his valuables to [Sr. Heliodora] for safekeeping.
The people of Nowogródek, cherished her legacy of quick wit, joy-filled love and memories of children hugging her and laughing as the hid within the folds of her wide habit. As with all the sisters, her faith-filled prayer life was the source of her very being as she shared the message of our foundress, Frances Siedliska, with everyone whose life she touched.
Sr. M. Canisia (Eugenia) Mackiewicz
Moving on to reflecting on Sr. Canisia, whose father had been an officer in the Imperial Czarist Army, we learn that she came from a very pious family. When she was 14 years old, her mother died. Although she was interested in becoming a religious, she decided to remain with her father and became a certified teacher in a school. Her brother became a priest and ministered as an army chaplain and catechist. She and her brother were "soul mates." With the death of her brother from meningitis in 1933, she decided to seek admission to the Congregation of the Sisters of the Holy Family of Nazareth.
As a teacher, she was known to be zealous and dedicated. She had high expectations of the children and still higher ones for herself. She had a liver condition and often suffered ... but never missed a lesson and would never accept a substitute.
During the Soviet occupation, she was hired to teach in the public school and to march with the children during propaganda demonstrations. While walking with the children, she prayed for them. Dressed as a civilian, [Sr. Canisia's] identity as a member of a religious order was not conspicuous. When higher authorities began to suspect her, she escaped to Grodno where, under an assumed identity, she remained until the Russians were forced to retreat. During the German occupation, back in Nowogródek, she taught children in their family homes. She instructed the children in the Polish language and mathematics, and as a catechist, she prepared them for the reception of the sacraments in the Catholic tradition. Byelorussian Nazi sympathizers reported her activities to the German authorities.
Sr. M. Boromea (Veronica) Narmontowicz
The youngest sister to die was Sr. Boromea. Coming from a picturesque region near Grodno where people had their unique lifestyle, Sr. Boromea experienced some difficulty in accepting routine domestic assignments. Moreover, as the youngest in a community experiencing untold challenges brought on by the war, her sensitive nature was often revealed in her tear-filled eyes. Aware of her struggle the superiors agreed to her parents' request for her to return to her family home. Her stay was brief because she desired to return to the Nowogródek, community. Sensing her need for more time away from the community, Sr. Stella arranged for her to reside with a family only six kilometers away from the convent.
Again, her stay was a short one and upon her return to the convent, she wrote to one sister: Something urged me to return to the Sisters.
Alexander Zwierko keenly concluded: Sr. Boromea consistently formed her God-given, delicate and sensitive nature toward an ever-greater level of maturity and fidelity. The Love of the Holy Family of Nazareth captivated her. And it was that love, and no other, that prepared her to make the most beautiful evangelical sacrifice.
***
In her Diary, Ann Frank left us a glimpse of her hidden life before the Gestapo brought it to an abrupt, untimely end. Our 11 sisters did not leave a written account, but their lives spoke volumes. I've been able to give you a glimpse into the lives of my sisters by quoting words of people who were convinced that they survived World War II because these sisters offered their lives for them and continue to look after them.
Situated in the direct path of the Chernobyl fallout, Nowogródek, expected devastating consequences. However, scientists who studied soil and other samples found no contaminants. Informed of the scientific findings, the townsfolk spontaneously responded that their sisters were still protecting them.
Remember Isaiah's words:
In the Lord shall be the vindication and the glory of all the descendants of Israel.
May each of us here present be courageous enough to let our lives witness to our faith in a loving God.