Wednesday Reflection: September 14, 2022
September 14, 2022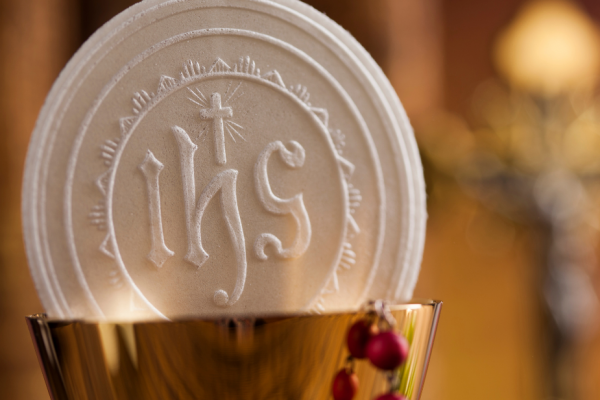 Dear Friends,
I am sure that a good number of us have tried to get healthier by eating better and exercising. A good friend of mine, Mick Souza, who is soon to be featured on EWTN, often shared this saying with me: "You are what you eat!"
Mick won Mr. Universe in 1992, but even though he was at the top of his success, the money, sex, and adrenaline he was chasing were never enough to fulfill him. Knowing he needed to come back to God, Mick returned to the place where he remembered feeling closest to Him as a kid: Mass, and the Real Presence of Jesus in the Eucharist. He shared that as a kid, he would say to his brother, "We go to church and receive Jesus, why don't we look like him?"
I love Mick's story, and love having spiritual conversations with him. When I saw that he shared a short video on Facebook, I watched it right away. What he shared about the Eucharist and becoming Eucharist for others was inspiring. It made me think, "do I look like Jesus?" Perhaps the better question would be, "do I act like Jesus?" Am I Eucharist for others?
This can be a real challenge. When we go to Mass, are we prepared to receive Jesus? Do we believe in the real presence? Or do we approach the altar in a state of routine?
In order to become more like Jesus, we really need to be aware of who we are receiving and how we can share Him with others. Some of us have the benefit of receiving daily, others weekly. Do you see changes in your attitude, how you approach others or how you trust in God providence for you?
If we are what we eat, are we a little more like Jesus after each time we receive Him?
Only you can answer that question for yourself. There are so many opportunities available for us to be Eucharist for others, bringing life, joy, and compassion. Will I take advantage of them, or will I stick to the same old – same old routine? It's your choice to make; think it about as carefully as when you plan what you're going to eat!
September 14th is the feast of the Exultation of the Cross. It might be worth spending time reflecting on how Jesus lived His life to redeem us. Do I share that life, that goodness, with others?
Till next week,
Sister Theresita