2022 CSFN Jubilarians: Sr. Elaine Marie Klugiewicz
October 4, 2022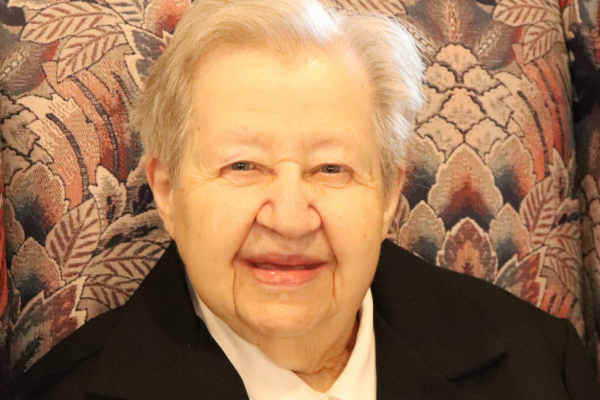 DIAMOND JUBILEE – 75 YEARS
Entered August 15, 1947
Sr. Elaine Marie Klugiewicz first felt a stirring in her heart towards her vocation as a child attending St. Casimir Elementary School. The loving and prayerful example set by the Sisters of the Resurrection, who staffed the school, made a strong impression. It seemed almost certain that she would continue her education with the Sisters of the Resurrection, but God had other plans; when her mother suggested Holy Family Academy as another choice, something resonated with the young woman that made her choose to attend. It was there that she first encountered the Sisters of the Holy Family of Nazareth.
When asked of an experience in her vocation journey that stands out, Sr. Elaine will laugh as she begins her tale. "I think God tricked me into coming to Nazareth," she will tell you with a smile. Though she kept in contact with the Sisters of the Resurrection while attending Holy Family Academy, there was a change within her heart that even she did not readily realize. She made an appointment to discuss beginning the admission process with the Sisters of the Resurrection, but when asked by the Sisters if she was ready to enter, she blurted out, much to her own surprise, "I'm not! I'm going to Nazareth!" It was truly the Holy Spirit at work in her heart!
"God's trick" led Sr. Elaine Marie to continue her education with a Bachelors in Education from Loyola University, and a Masters of Library Science from Dominican University. Her ministry as a CSFN brought her to Texas, serving as a teacher at St. Thomas Aquinas School in Dallas, Holy Family School in Irving, Sr. Luke School in Irving, and later back to Chicago at St. Ann High School and her own alma mater, Holy Family Academy, ending her ministry in education as the Director of Religious Education at St. Patricia Parish in Hickory Hills.
These days, Sr. Elaine has retired from public service and instead focuses on her prayer ministry. Though illness in her youth had led doctors to surmise that she wouldn't see past her 35th year, Sr. Elaine is now celebrating her 75th year with the Sisters of the Holy Family of Nazareth! Time hasn't slowed her earnest heart; she spends her days in prayer, reading, and listening to the stories of the residents of her home at Nazarethville.