2022 CSFN Jubilarians: Sr. Maria Annette Mallen
October 18, 2022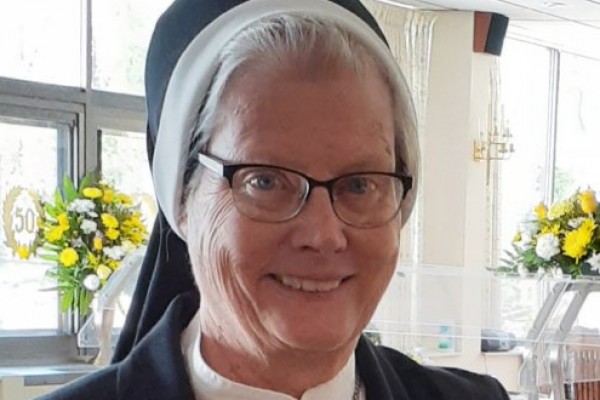 GOLDEN JUBILEE – 50 YEARS
Entered August 12, 1972
Sr. Maria Annette likes to joke that she has an "invisible tattoo on the back of [her] neck: RETURN TO NAZARETH". The niece of two CSFN Sisters who have since gone home to God, Sr. Regis M. Wesolowski and Sr. M. Loretta Wesolowski, Nazareth is not just a cornerstone of her faith, but also something of a family tradition.
With education including a BA in Biology from Holy Family College (now Holy Family University) as well as intensive study in Nuclear Medicine, Sr. Maria Annette has had a long ministry both as an elementary education teacher at several Catholic schools and also as an X-Ray and Nuclear Medicine at Nazareth Hospital. Currently, Sr. Maria Annette serves as a Development Assistant at her alma mater, Holy Family University. In her spare time, Sister is an avid fan of the Philadelphia Phillies baseball team, and her spontaneous, perhaps even adventurous nature has led her towards the high-octane sport of racecar driving. Sr. Maria Annette has even once driven ten laps at Dover Downs, with speeds over 120 mph!
Sr. Maria Annette's family connection to the CSFNs reaches even further back than her contemporary aunts, Srs. Regis and Loretta; Sr. Celine Bednarska, who ministered as Superior to the Sisters serving in Nowogrodek, was her great-aunt. Asked to accompany others out of the city as it was thrust into the conflict of World War II, Sr. Celine handed over leadership of the Sisters in Nowogrodek to Sr. Stella Mardosewicz, who would go on to be martyred for the same of the families in her charge and become Blessed Mary Stella. There is no doubt that this had a profound influence on Sr. Celine and, in turn, Sr. Maria Annette; she devoted herself to her CSFN ministry, knowing that she carries on a family and faith tradition.