2022 CSFN Jubilarians: Sr. Susan Therese Rojek
October 27, 2022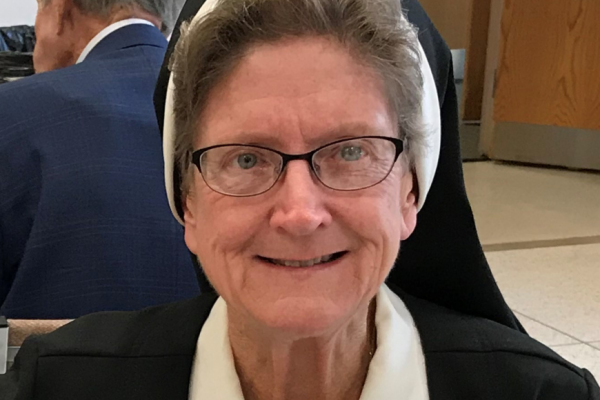 GOLDEN JUBILEE – 50 YEARS
Entered August 12, 1972
While attending Nazareth Academy High School, Sr. Susan Therese met two women who would change the course of her life. Sr. Francesca Onley, then the Guidance Counselor at the school, and Sr. Catherine Gumienna, who taught Biology and Physics. Through their quiet humanity, Sr. Susan Therese learned of the loving, nurturing nature of the CSFNs and the true meaning of a sisterly community. Though still a young woman, Sr. Susan Therese took these lessons to heart, and carries them with her to this day as she serves as a Sister of the Holy Family of Nazareth.
Sr. Susan Therese began her educational journey with a BA in Biology from Holy Family College (now University), and began her ministry as a junior high teacher of both science and math, at Our Lady of Calvary School. Sister moved on to several different elementary and high schools over the years of her teaching ministry, including a position teaching Physical Science, Chemistry, and Theology at her own alma mater, Nazareth Academy High School, where she had first encountered the CSFNs. After earning a Masters degree in Theology, Sr. Susan Therese saw her time as an educator conclude after 30 years. She spent ten years in a secretarial position at St. Katherine of Siena Rectory, before moving to her current ministry as a Pastoral Associate at Immaculate Mary Center for Rehabilitation and Healthcare in Northeast Philadelphia, becoming the Director of Pastoral Care in January of this year.
Ministries that serve families are of particular interest to Sr. Susan Therese. "Families form the heart of our world. Without them, we could not exist as a society," she states. "I try to see Christ at work in families, and I try to develop that aspect in my ministry. To touch families in my religious life makes Christ truly present in our world." Truly, those early lessons she learned from the first CSFNs she encountered have resonated with Sr. Susan Therese and became the center of her life and her ministry, employing the same loving, nurturing nature she learned all those years ago to serve the families in her care, and sharing in the love of a sisterly community even in her downtime, with quiet, home-based activities like reading and crocheting.