Wednesday Reflection: October 26, 2022
October 26, 2022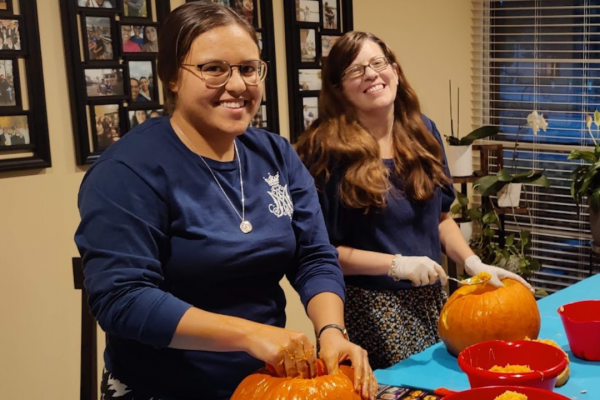 Dear Friends,
The season of pumpkin carving is upon us! I thought I would bring back an old seasonal favorite, written by Steve Patterson of Courageous Christian Father . I have added in some questions to accompany the prayer. It is fun to pray this as you carve the pumpkin; your children will love it!
Dear Jesus,
As I carve my pumpkin, help me say this prayer:
Open my mind, so I can learn about you.
(Cut the top off the pumpkin)
What keeps me from having an open mind about people, places, things, and other's ideas? What thoughts keep me from moving forward in my spiritual journey?
Take all my sin and forgive the wrong that I do.
(Clean out the inside.)
What do I need to ask Jesus' forgiveness for? Who do I need to forgive?
Open my eyes, so your love I will see.
(Cut eyes shaped like hearts.)
What person or situation do I need to see with the eyes of Jesus?
I'm so sorry for times I've turned up my nose at what you've given to me.
(Cut a nose in the shape of the cross.)
What have I forgotten to say thank you for? Have I been grateful each day for God's abundance in my life?
Open my ears, so your Word I will hear.
(Cut ears shaped like the Bible.)
Help me to listen to others and take to heart the Word of God. Do I listen well?
Open my mouth to tell others you're near.
(Cut the mouth in the shape of a fish.)
Do I speak encouraging words to others or do my words bring others down?
Let your light shine in all I say and do! Amen.
(Place a candle inside, and light it.)
Does how I live my life reflect the light of Jesus? Can I help other people's light shine?
There you have it! Take the time to carve, share, and reflect on this prayer. Happy Pumpkin carving!
Till next week,
Sister Theresita
P.S.: Remember, "We all have the extraordinary coded within us, waiting to be released." Jean Houston