Vocation Story: Sr. Gabriela Duszynska, CSFN
November 10, 2022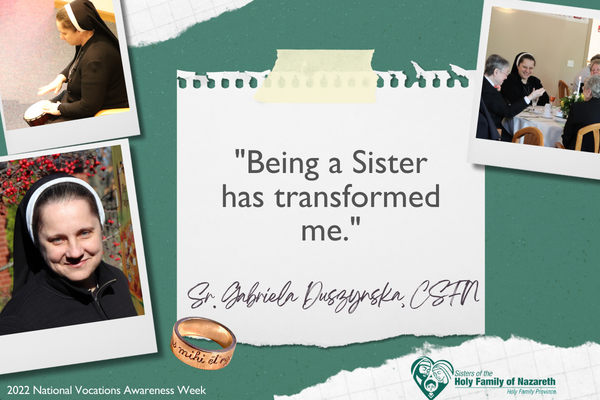 When reflecting on what drew her into becoming a Religious Sister, Sr. Gabriela Duszynska, CSFN, simply answered, "The answer is transforming every day."
A native of Poland, Sr. Gabriela is a member of the Sisters of the Holy Family of Nazareth-Holy Family Province, USA. During her teenage years, Sister recalls the draw to Nazareth. "The [Nazareth] Sisters warmly opened their lives and home to us. We sang in the choir with them, rode bikes, and spent time visiting with them. They reminded me I was loved and made me feel like I belonged. I knew I wanted to be like them and help others have that same experience."
Sr. Gabriela, a licensed Social Worker, works as a counselor for those struggling with addiction and those needing general counseling. "When I was finishing my degree, one of my professors told me, people are going to trust you for two reasons, one - you are a therapist, and two – you are a Catholic sister," said Sr. Gabriela.
"It is a privilege to be trusted and help people better love and understand themselves," said Sister. "You never know the impact we have on someone's life. Sometimes we are called to plant a seed; other times, we come along to help nurture growth, but we are always called to love."
Family is the heart of the Nazareth mission, and Sr. Gabriela believes that her work is blessed to directly and indirectly support this mission, "when you are able touch one life, you then touch the lives of many, many others."
Drawing inspiration from the example of Blessed Mary of Jesus the Good Shepherd, Foundress of the Sisters of the Holy Family of Nazareth, whom she considers "a woman ahead of her time," Sr. Gabriela sees a deep connection between the Nazareth mission, her personal mystery Holy Spirit, Fire of Love, and the work she has been called to do.
"Mother Foundress wrote extensively on the love of God and the importance of emphasizing this in our own lives and through our ministry to people… when I made my final vows, I chose as my mystery, Holy Spirit, Fire of Love, to remind me of the need to emphasize God's great love in my life and in the lives of those I serve. If there is no love, then there is nothing."
Sister considers one of the greatest gifts of Religious Life to be that life is constantly developing. "I am grateful that my life has not remained stagnant throughout my years as a Religious Sister. I am not the same person I was five or ten years ago…because being a Sister has transformed me. It's pushed me to grow, even in areas where I struggle. Through time, God's wisdom has revealed to me that each struggle will always lead to a greater transformation. And so, every day I wake up. I thank God for another day and ask Him to give me the grace to do the best I can for this day. To not worry about tomorrow, to not fear the struggles, but to be present today, so that I may serve Him faithfully."
In life, we have both sweet and sour," says Sr. Gabriela, "We have to acknowledge that Love is present in both and learn to enjoy each flavor because if not, we will never taste the fullness of life."