"Eucharistia" meaning "thanksgiving"
November 25, 2022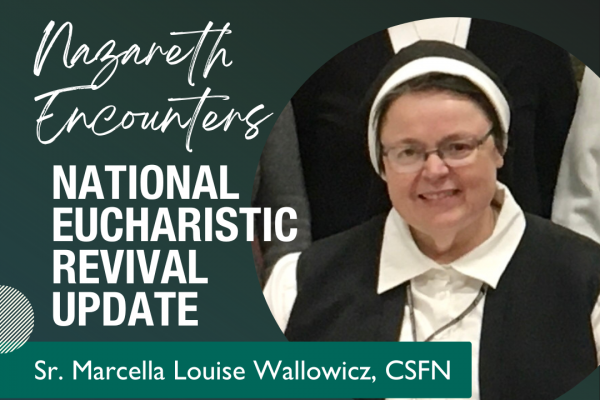 For Nazareth Sisters, the month of November is a time of commemoration of two important events in the life of our Mother Foundress, Blessed Mary of Jesus the Good Shepherd, and, thus, our Congregation: Mother's birth anniversary on November 12 and her feast day on November 21. Also associated with the month of November is the American celebration of Thanksgiving. How appropriate since the word "Eucharist" comes from the Greek "eucharistia" meaning "thanksgiving."
The centrality of the Eucharist in our religious life is an essential aspect of Nazareth spirituality. Since the inception of our Congregation, a tabernacle has been present in every convent chapel. Mother Foundress insisted on it. Recognizing the need to be fed spiritually in order to extend the Kingdom of God's Love, Mother Foundress also established daily Eucharistic adoration as part of each Sister's prayer regimen. Love for Jesus in the Blessed Sacrament was an essential component of her life. It is a legacy she left for her spiritual children.
It is well documented that throughout her life Mother Foundress often experienced chronic illnesses. Prayer sustained her during these times. "My Lord strengthened me and refreshed me. How many times I experienced relief, comfort and support at the foot of the altar. (Personal Journal, May 1, 1891)." She also wrote "how much we ought to prize the privilege of daily Holy Communion that is ours in the religious life! (Return to Nazareth, p.99)." A woman with a passionate Eucharistic heart, she did not want Jesus to be alone. A fervent dream of Mother's, which unfortunately was not realized, was to establish near Philadelphia, PA, a place of perpetual adoration of the Blessed Sacrament.
In a recent article in Heart of the Revival newsletter, Fr. Joe Laramie SJ, commented that during His life on earth, Jesus was often overlooked. It was the simple who recognized Him: "Mary welcomed Him with open arms. Joseph accepted Him as His adopted Son. The shepherds honored Him. The three kings adored Him. Children and beggars rejoiced at His coming."
The Eucharistic Revival is a reminder to us that Jesus is still present in our world and His desire is to heal and renew us and the Church. During this time of Eucharistic Revival in the Church in the United States, I encourage you to subscribe to the Heart of the Revival newsletter which is just one of many resources available on the Eucharistic Revival website. The link is: https://www.eucharisticrevival.org/
Blessings on you and your families as we strive to grow closer to our Eucharistic Lord, especially during this time of Thanksgiving and coming the Advent Season.
Sister M. Marcella Louise Wallowicz CSFN