Gospel Reflection: January 15, 2023 – 2nd Sunday in Ordinary Time
January 14, 2023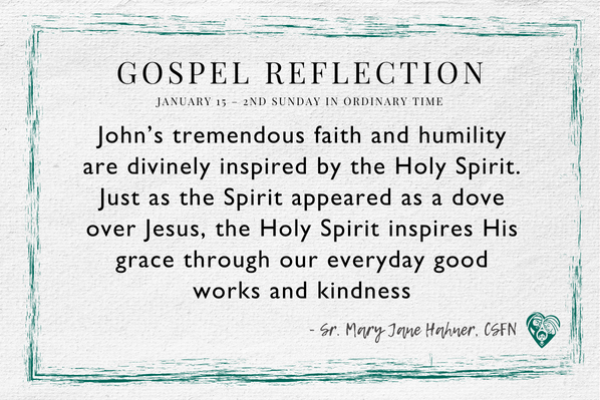 Jn 1:29-34
In today's Gospel, John the Baptist recognizes Jesus as God. "One more powerful than he who is, was, and forever will be—the Son of God." John's tremendous faith and humility are divinely inspired by the Holy Spirit. Just as the Spirit appeared as a dove over Jesus, the Holy Spirit inspires His grace through our everyday good works and kindness.
There are countless opportunities for grace every day. In simple interactions with others: a kind smile or hello; an offer to help; a whispered prayer for those in I'll health or those lonely in nursing homes or our own home. Perhaps you're good at correspondence and a quick note to let others know you care; or a phone call helps you extend love to others. Patience at work, home, in the subway or in the supermarket can model Christlike behavior to and for others.
All of these are golden moments to grow in our God and neighbor relationships.
How will you respond to God's love today?
Sister Mary Jane Hahner, CSFN