Gospel Reflection: January 29, 2023 – 4th Sunday in Ordinary Time
January 28, 2023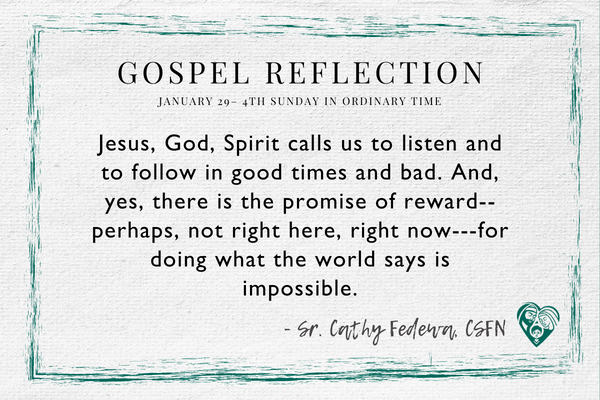 Mt 5:1-12a
The Beatitudes, blessings…we've heard them over and over again.
These are words easy to take in, making so much sense---when all is well in our world.
But, when we ARE poor, when we ARE mourning, or persecuted or insulted...Ahh, then comes the challenge! Then comes the time of trust, of total reliance on the One who spoke those words!
Jesus, God, Spirit calls us to listen and to follow in good times and bad. And, yes, there is the promise of reward-- perhaps, not right here, right now---for doing what the world says is impossible.
That is what faith, trust, and hope are all about. God's love is greater and more powerful than any difficult circumstances. That love is the strength that holds us up in any challenge life can offer.
REJOICE AND BE GLAD! You WILL be shown mercy. You WILL be satisfied. You WILL SEE God.
Sister Cathy Fedewa, CSFN