The Community at Holy Family Manor
February 2, 2023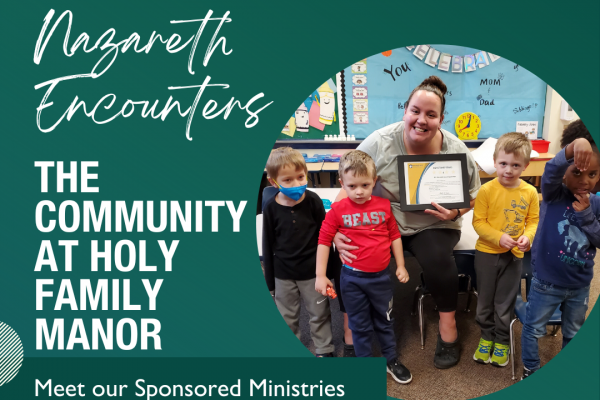 Nestled in the hills of Pittsburgh lies a little Nazareth, where the heart and mission of the Holy Family are lived out daily.
The Community at Holy Family Manor is a unique ministry sponsored by the Sisters of the Holy Family, USA, Inc. It expresses its mission through two core service areas of childcare and senior care and sometimes combines the two together. Their approach is unique as it is shaped by a family-focused perspective and reflects the values of the Sisters of the Holy Family of Nazareth, Holy Family Province.
"The Community at Holy Family Manor is unique because the employees minister to families by caring for both the "little ones" and the elderly in two different programs," related former CEO Sr. Janice Fulmer, CSFN.
"At Mt. Nazareth Learning Center (designated 4-Star Keystone Stars Program by the Pennsylvania Department of Education), children from six weeks of age until five are cared for Monday through Friday from 8 a.m. to 6 p.m. Currently, there are about 180 children enrolled. At Holy Family Manor the needs of the elderly who require some personal assistance are invited to make their home with the other seniors who live there. Today there are 33 in residence, including eleven who are in a memory care unit and six sisters who live in a special wing which is their convent. On various occasions, the two groups, the children and the elderly, come together. The children enjoy sharing their talents with their "friends" at the Manor, and the Manor residents are full of smiles when they see the little ones. "
Serving families is at the heart of The Community at Holy Family Manor. Sr. Janice considers it an honor to know that "families entrust their loved ones to us, both young and old because they recognize the family spirit that exists in both of our programs."
To learn more about The Community at Holy Family Manor, please visit chfmanor.org.