So Many Gifts Given
February 3, 2023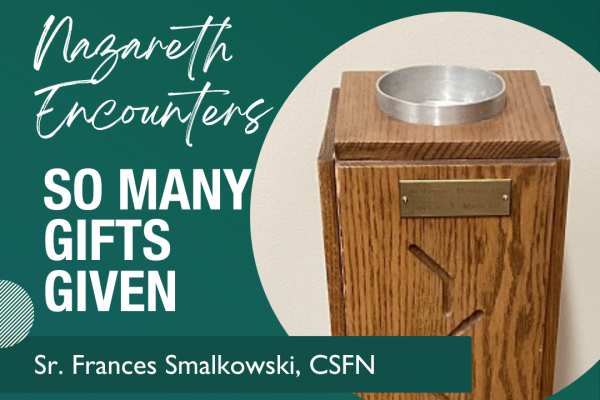 By Sister Frances Smalkowski, CSFN
While wheeling a small holy water font down the corridor, I am reminded that it had been donated by the family of a deceased resident. Close to twenty years later, the man's 100-year-old wife is now a resident. She shows delight in seeing her family name on the plaque, as does her visiting son.
One of the many blessings of a 40-year ministry in the same place is the gift of experiencing family generations. Since this ministry has continued in a long-term care setting, what surprises me is the fair amount of second generations that I encounter. Oftentimes, I do hear my sisters in educational ministries share this, too, and with more expected experiences of multigenerational ties.
For me, each one of these unexpected events is such a memory treasure that generally has so many attached recollections. Needless to say, I savor each one, and especially the family similarities...
On another note, I am regularly asked why I am still in one healthcare center for so long. Usually, I smile and say that my community doesn't know what else to do with me. Perhaps only God knows for sure!