Gospel Reflection: February 5, 2023 – 5th Sunday in Ordinary Time
February 4, 2023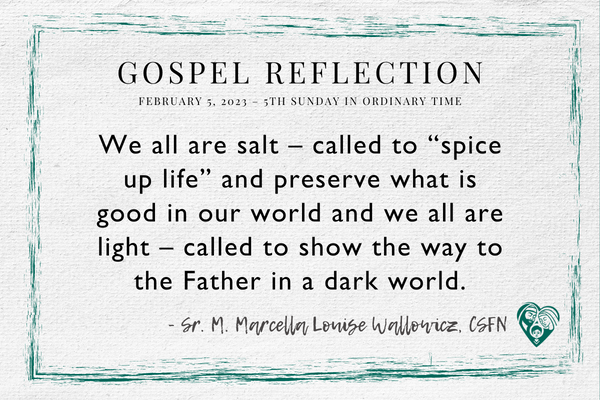 Mt 5:13-16
In his Gospel, Matthew addresses these words of Jesus to the Christian community: "You are the salt of the earth," "You are the light of the world," and "Your light must shine." The message is as relevant now as it was in apostolic times; however, the way of living this reality is unique to each person – lay, cleric, single, married, and vowed religious. We all are salt – called to "spice up life" and preserve what is good in our world, and we all are light – called to show the way to the Father in a dark world.
Throughout the year, the Church celebrates and prays for each of her members in their various roles. The World Day for Consecrated Life is being celebrated in parishes across the United States this weekend. This day, instituted in 1997 by Pope St. John Paul II, celebrates the gift of consecrated persons to the Church.
All Christians are called to have a spiritual impact in the world - to bring the light of the Gospel to as many as possible. In a particular way, consecrated persons, in serving God's people and spreading the Good News of the Kingdom, depend on the support and prayers of the faithful in this ministry. Please remember us in prayer this weekend. You are always in ours.
Blessings,
Sister M. Marcella Louise Wallowicz, CSFN