Gospel Reflection: February 12, 2023 – 6th Sunday in Ordinary Time
February 11, 2023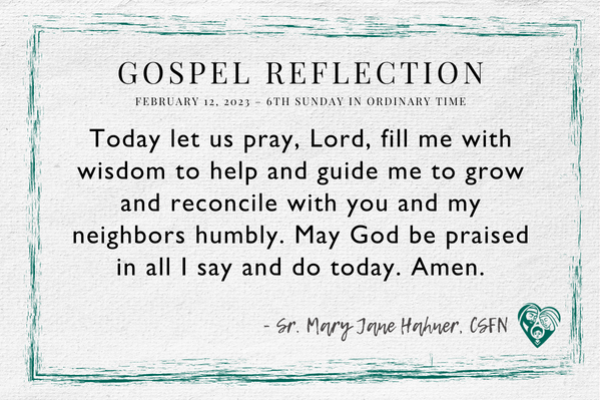 Sir 15:15-20
Ps 119:1-2, 4-5, 17-18, 33-34
1 Cor 2:6-10
Mt 5:17-37
This Sunday, our readings center on keeping the Laws of God. In the Jewish tradition, there were 613 laws, and God gave Moses the Ten Commandments.
We can summarize the Ten Commandments in that the first three relate to loving God with your whole being, and the other seven, loving your neighbor as you love yourself.
These are simple commandments, but time and time, we fall short of keeping these, as we unconsciously place things in front of our love of God and neighbor.
As St. Paul reminds us in our second reading today, the remedy is the wisdom that "God predetermined for our glory." Wisdom, a gift of the Holy Spirit, is given to us by the grace of God to guide us along our life's journey to Heaven. It is that wisdom that pricks our conscience when we're too proud or impatient with our neighbor. Wisdom reminds us we need to place God before the other tasks on our busy weekends. Wisdom stirs in our hearts and recognizes when an apology needs to be made, rather than rationalizing it does not. It is wisdom that motivates us to follow what the Gospel says and leave our gifts at the altar, go and be reconciled with our neighbor.
Yes, wisdom at times can undoubtedly taste like humble pie, but it is sure to strengthen our relationships with God and our neighbor.
Today let us pray, Lord, fill me with wisdom to help and guide me to grow and reconcile with you and my neighbors humbly. May God be praised in all I say and do today. Amen.
Sister Mary Jane Hahner, CSFN