Gospel Reflection: March 19, 2023 – 4th Sunday in Ordinary Time
March 18, 2023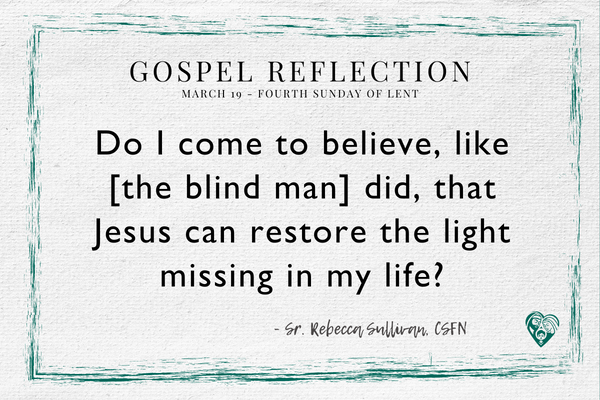 Jn 9:1-41
In today's gospel, Jesus encounters the man born blind. Jesus is walking with his disciples, and they ask Jesus who sinned, he or his parents. Jesus replies that neither sinned. As he said this, he bent down, made some mud, and smeared it on the man's eyes. Then he told the man to go and wash his eyes in the pool. The man did this and was able to see. Later we see that this man and his parents were questioned about the healing by the Pharisees because this happened on the Sabbath. The man's faith had grown that day because he had gained sight.
What kind of sight did this man gain that day? First, he gained sight to witness to the Son of God; second, he gained his physical sight to see all living things around him; third, he gained insight into what true faith is all about.
During this Lenten season, take some time to reflect on the man born blind. Am I like him? Do I come to believe, like he did, that Jesus can restore the light missing in my life? Am I like his parents, discovering that new sight/light is possible but not letting go of that safe spot? Am I like the Pharisees claiming that I can see but not recognize the real truth that Jesus brings to all of us?
Let us pray for the light that Jesus can bring all of us in faith and love.
Sister Rebecca Sullivan, CSFN