Wednesday Reflection: March 29, 2023
March 29, 2023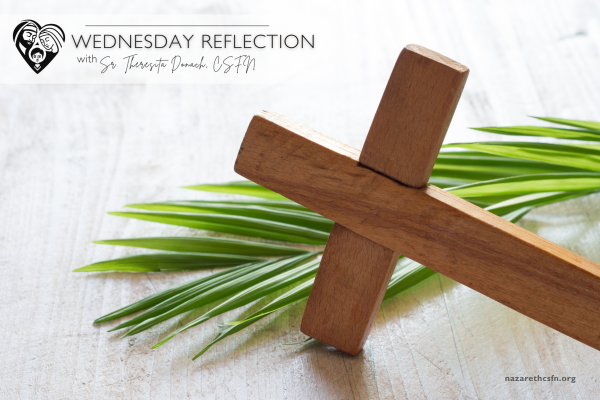 Dear Friends,
Today I received this note from God, via email!

Theresita, God wants you to know that God is crazy about you.
God sends you fresh flowers every spring, a breathtaking sunrise every morning. If God had a wallet, your picture would be in it. If God has a refrigerator, your childhood scribbles would be on it.
I was so delighted to read this that I couldn't help but share with you. We don't often think about God being crazy about us, yet I am sure that when He entered Jerusalem on the Sunday we now call Palm Sunday, there were great shouts of Joy. In the midst of all the excitement, waving of palms, and cheerful shouting, Jesus knew the tide would change in just a few short days – yet He was crazy about you then and now!
We know the story well, perhaps too well and sometimes can become numb to it. The shouts of Hosanna from Palm Sunday turn to shouts of Crucify Him, Crucify Him on Good Friday. Yet Jesus, God made man, was willing to die for you, for me, for all of us, because He is crazy about us!
I am suggesting that from Palm Sunday to Good Friday, you reflect on all that God, Jesus, did for us because He is crazy about us. Take the time to let it sink in; believe it, and cherish the fact that you are deeply loved.
Name some of the things that God does for you because He is crazy about you. I hope you get as excited as I did when I was reminded that God is crazy about me!
Happy Palm Sunday.
Till next week,
Sister Theresita