Wednesday Reflection: May 3, 2023
May 3, 2023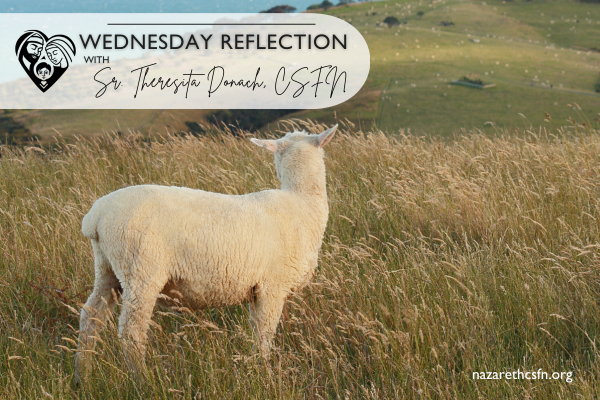 Dear Friends,
"…the sheep hear his voice and he calls his own sheep by name and leads them out… And when he has let out his own sheep, he goes before them and the sheep follow him because they know his voice." (John 10:3-4)
Although I have heard this reading many times, this is the first time these words have really struck me. Do I know the voice of the Shepherd? Can I distinguish it from the many voices that fill my life and this world? Hopefully, like Mary Magdalene, when I hear the Shepherd's voice I will know and recognize it.
What are some of the other voices I hear? There could be voices out there that are leading me towards greed, or hatred, or even violence. Perhaps there are some that lead to indifference, or just the voice that says this is what I want, when I want it, and how I want it. Very different from the Voice that speaks of peace, joy, compassion, and a life free of fear!
It's this Voice that calls us to be kind and compassionate towards one other, to be patient with our own imperfections, and above all to remember that the Shepherd is always leading us. We also know that other sheep story – the one that tells how the Shepherd will leave the 99 to find the one sheep who is lost. Jesus, the Good Shepherd, values each and every one of us, no matter what we may have done or might be struggling with.
How do I know that I am following the Shepherd?
There is another quote that says by their fruits you shall know them (Matthew 7:16). Following the Shepherd isn't always easy, but it is the best voice to follow. For myself, I can only say that even in challenging times, the gift of peace comes with the Shepherd's Voice.
During this week, notice what voices you hear. Do you hear the Shepherd's Voice? Or do you hear those of power, greed, apathy, and fear? I would say that there could be many voices surrounding you, but some quiet reflective time will help you to sort them out, along with some prayer.
May the Shepherd's Voice bring you peace and life this week.
Till next week,
Sister Theresita