Wednesday Reflection: May 17, 2023
May 17, 2023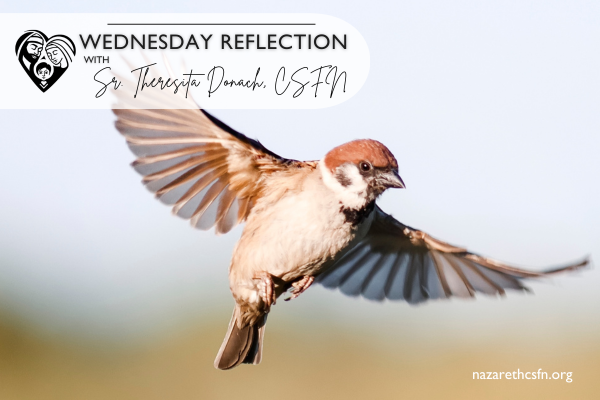 Dear Friends,
Happy Feast of the Ascension! Whether you celebrate on Thursday or Sunday, this feast signals to us that the Easter season is coming to an end. This feast reminds me of two things: Jesus is physically leaving His followers, and the Holy Spirit is not far from coming to set the world on fire!
I would like you to think about that first item: Jesus leaving His followers.
Can you picture yourself in the following scenes? Jesus is with the Apostles and followers for three years, followed swiftly by His crucifixion and death. Don't forget the Resurrection, and suddenly He is back with them all again. They could hardly believe it and were so thrilled to have Him among them once again. Little did they know, He is paving the way for the Holy Spirit to come upon them. Can you imagine the roller coaster ride they must have felt? A tumultuous blend of fear and excitement, all mixed into one!
Now think about your own life.
Have you ever found yourself in a situation where you lost someone, whether it be a friend or family member who had moved far away from you, and you miss them terribly? Or you have lost something very important, and you are constantly searching for it? All of a sudden, that lost friend comes back into your life – what a joy! You found what you have been searching for! (I'm in that part of the process right now.) All is well with the world once again.
But that's not the end of the experience, is it?
You may not be expecting it when that friend bids you farewell once again, and this time there will be no coming back. How do you deal with those ups and downs?
I think the Apostles and followers of Jesus had a difficult time. They secluded themselves together in prayer, and perhaps even worry. As we know, Jesus had promised never to leave them alone, and His word was good. His absence made room for the Spirit!
In a recent homily, Fr. Tom Haggerty of St. Philip & St. James Church where I serve as a pastoral associate spoke of a bird building a nest and laying her eggs. After they had hatched and they had grown enough, the mother bird pushed the hatchlings out of the nest, one by one. It wasn't that she wanted to leave them on their own; she knew it was time for them to spread their wings and fly!
Jesus knew that it was the same for his Apostles and followers: it was time for them to spread their wings, and they would do so with the indwelling of the Holy Spirit. They were never left alone; they were allowed to grow.
Spend some time this week thinking about how you may handle the roller coaster of emotions you experience with loss in your life. Does it help you grow and spread your wings to new heights?
Till next week,
Sister Theresita