Gospel Reflection: May 28, 2023 - Pentecost
May 27, 2023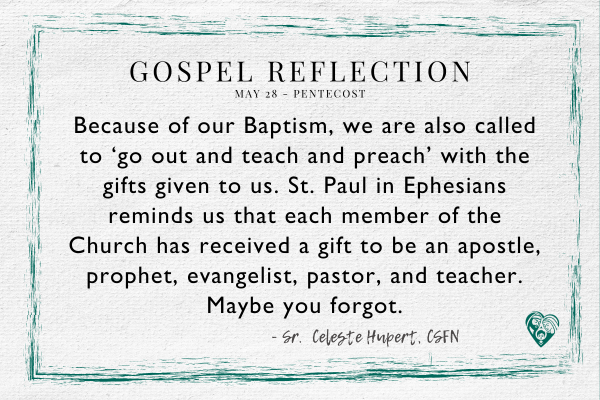 Jn 20:19-23
"As the Father sent me, so I send you."
Years ago, there was, and today there is a remake of a program called "Mission: Impossible," which began with a man sitting on a bench in the park where he found a tape. He listened to the voice that said: "Your mission if you accept it, is …" and then proceeded to instruct the man with that mission.
Today we hear in the Gospel on this Feast of Pentecost that Jesus appears to the Apostles in the Upper Room with the greeting: "Peace be with you! As the Father has sent me, so I send you." Notice Jesus did not ask if they accept to go out and teach and preach but gave them the Holy Spirit and the power to forgive sins.
Because of our Baptism, we are also called to 'go out and teach and preach' with the gifts given to us. St. Paul in Ephesians reminds us that each member of the Church has received a gift to be an apostle, prophet, evangelist, pastor, and teacher. Maybe you forgot.
Sometimes the Holy Spirit is called the 'forgotten Person of the Blessed Trinity.' How often do you think of or pray to the Holy Spirit? Do you remember your Confirmation Day? Your Confirmation name? Do you remember the Gifts and Fruits of the Holy Spirit you received that day? Who is the Holy Spirit to you now? Perhaps we also may have forgotten the role of the Holy Spirit.
A Deacon once shared with me how he blesses himself with these words: "In the name of the Father Who created me, in the Name of the Son Who redeemed me, in the Name of the Holy Spirit Who sanctifies me." The Spirit Who sanctifies me. Notice the Father and Son's ministry is in the past tense, while the Holy Spirit's is in the present tense, always ready to be our guide and inspiration.
Perhaps on this Feast of Pentecost, we can pause, remember, and seek the help of the Holy Spirit in our daily mission of life.
Peace be with you!
Sister Celeste Hupert, CSFN