National Eucharistic Revival, year two: the Year of Parish Revival
June 1, 2023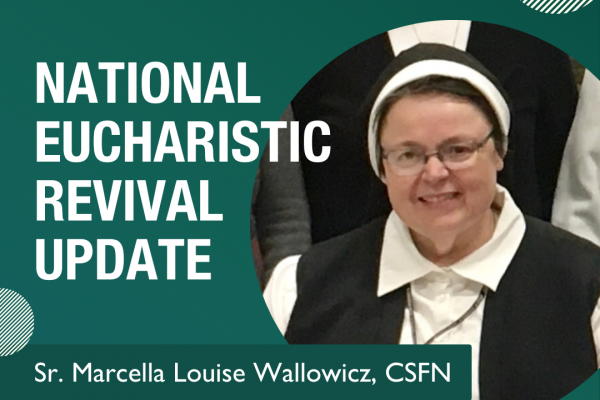 On June 11, we will observe the Feast of Corpus Christi, a liturgical solemnity celebrating the Real Presence of Jesus in the Blessed Sacrament. The feast was originally proposed by St. Thomas Aquinas. At the end of liturgy that day, there is usually a procession of the Blessed Sacrament, displayed in a monstrance. The procession concludes with Benediction of the Blessed Sacrament.
On the Feast of Corpus Christi, we will launch the second year of the National Eucharistic Revival, the Year of Parish Revival. During the first year, diocesan leaders discerned how to answer Our Lord's call to Revival in their dioceses.
Now is the time to implement these plans and engage Catholics to a renewed personal encounter with Jesus in the Eucharist on the parish level. In anticipation of this year, the Eucharistic Revival Team is proposing a nine-day novena, June 2-10. The novena text can be found at https://www.eucharisticrevival.org/post/corpus-christi-novena-2023. Additionally, Prayer Partners, a dedicated group of spiritual advocates, will continue to support the Revival through prayer, fasting, and penance. You can sign up to be a Prayer Partner at https://www.eucharisticrevival.org/get-involved.
Many parishes and dioceses will initiate the second year of the Revival by holding Eucharistic Processions. Nationally, four concurrent processions will take place in spring 2024. The pilgrimage will begin during the feast of Pentecost, May 17–19, 2024, from four different starting points: San Francisco from the west (Serra Route); Bemidji, Minnesota, from the north (Marian Route); New Haven, Connecticut, from the east (Seton Route); and Brownsville, Texas, from the south (Juan Diego). Each pilgrimage route is named by a specific patron saint who holds a special significance to the region. The four processions will converge in Indianapolis, IN, for the National Eucharistic Congress, July 17-21, 2024.
Along the way, the pilgrims will make stops in major U.S. cities, churches, Catholic colleges, and shrines. Parishes along these routes will host Mass, adoration, devotions, praise and worship, lectures on the Eucharist, and various programs. Major diocesan Eucharistic Processions will take place on Sundays, while smaller parish processions will occur on weekdays. All are invited to participate in these activities and to walk with our Eucharistic Lord for even part of a procession.
During the upcoming Year of Parish Revival, be an advocate for your parish! Contact your pastor and express an interest in becoming more involved. Look for the Parish Year Playbook and more resources for the Year of Parish Revival in the coming weeks on the Eucharistic Revival website: https://www.eucharisticrevival.org/. Another initiative is the American Eucharistic Saints project. More on that in our next issue!
Jesus wants to have a personal relationship with each of us. God bless you and your families as we strive to grow closer to our Eucharistic Lord.
Sister M. Marcella Louise Wallowicz, CSFN