Gospel Reflection: June 4, 2023 - The Solemnity of the Most Holy Trinity
June 3, 2023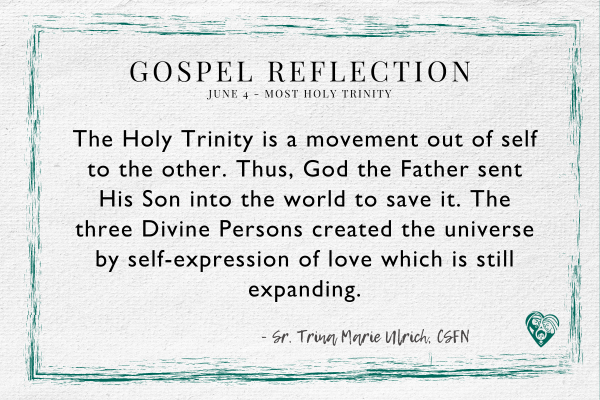 Jn 3:16-18
In this Sunday's Gospel, we hear of the famous line of Scripture John 3:16, "God so loved the world that he gave his only Son, so that everyone who believes in him might not perish but might have eternal life."
This love of God reveals a relational aspect of the Holy Trinity that centuries of scholars have struggled to understand.
St. Thomas Aquinas, one of the greatest theologians, wrote extensively about the mystery of God as Holy Trinity. Yet, once he actually encountered the Holy Trinity in a vision of Heaven, he wrote no more and described his writings as straw. Yet, St. Patrick effectively evangelized the Celts with a three-leaved clover describing God as a unity of three Divine Persons. The Church compares the Holy Trinity with the family of a father, mother, and child. The three examples given have a common element - relationship. St. Aquinas' encounter with the being of God left him without words to express God's love. The three leaves of the clover are the same yet different and join at the stem to express unity in three. And the model of the family as people who are made in the image and likeness of God illustrates the relational aspect of God as a Divine Community. The Holy Trinity is a movement out of self to the other. Thus, God the Father sent His Son into the world to save it. The three Divine Persons created the universe by self-expression of love which is still expanding.
The love of the Holy Trinity brings people together to share in one Spirit in Christ. Each example leads us to understand the Holy Trinity by our encounter of God in prayer, our meditation on God in nature, and the love we share with each other.
Sr. Trina Marie Ulrich, CSFN