Wednesday Reflection: June 7, 2023
June 7, 2023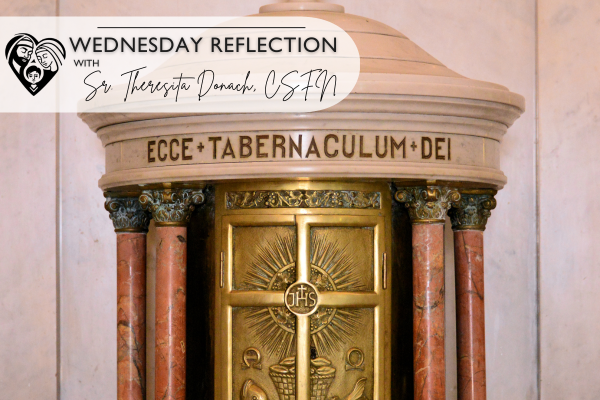 Dear Friends,
This Sunday is the feast of Corpus Christi. Along with the celebration of this feast comes the beginning of the second year of the Eucharistic Revival. Parishes are gearing up to educate, renew, and share the richness of the treasure that our Sacrament of the Eucharist is for us.
We will find many resources to help us in this journey to recognize Jesus in the breaking of the bread. I came across an interesting piece in the Catholic Free Press from Worcester, written by Jaymie Stuart Wolfe and published digitally at the Catholic Review. I was thinking about Mary and her being the first tabernacle that Jesus dwelt in, and then here comes this piece! It gives me the courage to continue reflecting on my idea, so I wanted to share with you what the writer had to say about Mary:
"Catholics who want to grow in holiness and virtue can't do much better than focusing on the two pillars of our spiritual treasure – the Eucharist and Mary… which anchor us as little else can. The Eucharist teaches us the value of presence, self-sacrifice, and communion, reveals the transforming power of the Holy Spirit.
"Mary gives us the model of Christian discipleship: she is a portrait of what it looks like to fully embrace God's love and His will wherever we are… the key to the synergy between Mary and the Holy Eucharist lies in this mystery of the Incarnation. The Angelus prayer can help us unpack it."
The author goes on to reflect on the prayer and then concludes:
"Of course, all this doesn't end with Mary. By God's grace we are tabernacles, monstrances, and ministers. Like her, every baptized Christian is a tabernacle of God's indwelling presence…"
My friends, on this feast of Corpus Christi, take the time to reflect on Mary and the words of this Author.
How can Mary help you to be a witness of the Christ dwelling within you?
What do you need to do to be that fullness of life that the Eucharist offers us?
How can you radiate the presence of God in your soul to those you encounter?
Perhaps you may want to take the time to reflect on the words of the Angelus prayer.
Lots to think about, and savor. Have a blessed week!
Til Next Week,
Sister Theresita