Wednesday Reflection, June 21, 2023
June 21, 2023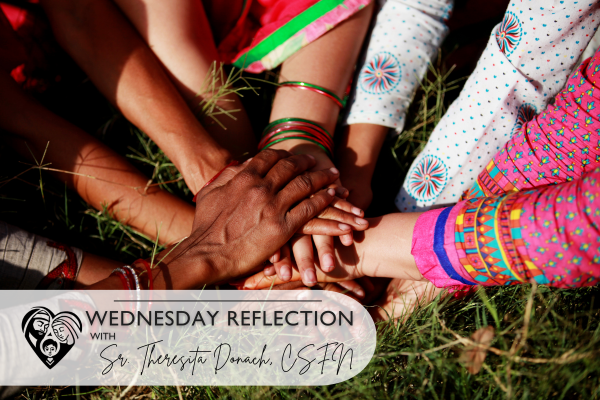 Dear Friends,
I pray that all of you were able to celebrate the beginning of The Eucharistic Revival for your parish in some special way this past Sunday, on the Feast of Corpus Christi. We at Saints Philip and James in St. James, New York celebrated with an outdoor procession and recitation of the Rosary as we processed. God provided us with a beautiful day!
Keeping on that theme, I want to share with you something I just read in Deepening Faith: Expanding Our Connections Through the Signs of God's Love (A Paulist Publication) about the Eucharist:
"The Eucharist is a feast of unity, a celebration of oneness we have in God through Jesus and His Spirit. Every time we gather, we celebrate Jesus together. Jesus' presence spills beyond the Mass into our everyday lives and the lives of our families. The more fully we gather in Christ, the greater will be the love we have for each other, the richer will be our service to the world, and the more completely we will be able to show Him to the world."
Although there are many words that touch my heart, making their long journey from the head, UNITY was especially striking. Perhaps it was that I had just heard a homily by Fr. Jude in our parish in which he used the word UNITY to help us understand the Trinity. Allow me to share with you how his explaining of the letters can also apply to the Eucharist quote above.
U – Understand
N – Nice
I – Identify
T – Teamwork
Y – Yield
These are some of the reflective questions I share with you.
U: Do I truly understand the great gift the Eucharist is, that it is the real presence of Jesus in the Host?
N: Knowing that receiving the Eucharist helps be more Christ-like, am I nice to those I meet after I walk out of the Church? Do I bring Christ to the bigger Family of God?
I: Do I identify with the fact that the Eucharist is the core of our belief as Catholics?
T: We are not in this alone. As it says above, the Eucharist is a feast of unity. Do I believe receiving Jesus helps build unity in our family, parish world?
Y: This I think is the most important of the letters, and perhaps the most challenging! Can I yield my will so to accept and follow the will of God? It can be so tough to give up doing things MY way, wouldn't you say?
May we keep in mind and truly know that going to Mass is not an obligation but an opportunity to gather, become more Christ-like, and build up God's kingdom!
Till next week,
Sister Theresita