Wednesday Reflection: August 2, 2023
August 2, 2023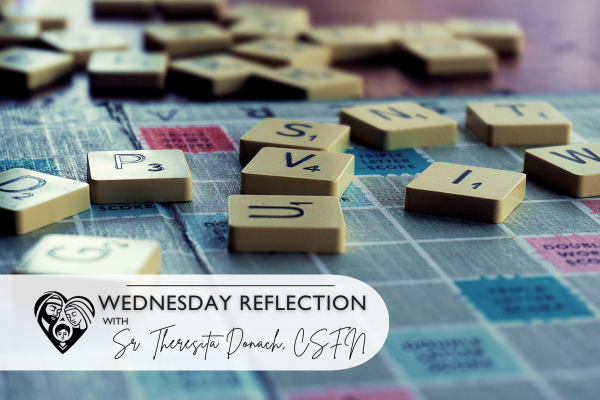 Dear Friends,
There is nothing like a good engaging story to help you remember an idea or a thought. Well, as it happens, I once again have a good one for you! While preparing some materials on the Eucharistic Revival for our parish, I remembered a story I once heard on retreat, and I think it is worth the retelling.
Each week, a dad would bring his young son up with him for Communion. The boy took note of the prayer before receiving Communion: "only say the word and my soul shall be healed".
He wanted to receive communion too! Finally, one day the little boy asked his dad, "So, what is the word?"
He wanted to know the word that would heal his soul. Out of the mouth of babes!
Have you ever thought about that when you were getting ready to receive Communion? What word do you need to heal your soul? I started reminiscing about some of the situations I've experienced and thinking of the words I needed to heal my soul. I came up with these few.
The word kindness came to mind as I may have been selfish in thought or action.
What about compassion, to heal my own self-indulgence, or love to replace the indifference I showed to another?
Ah, gratitude! To overcome my ungrateful heart.
What about hope, when I find myself in despair?
Courage, when I fear moving from my comfort zone into new growth.
The last one I will share is community, for when I isolate myself and forget to see the Christ in others. Of course, Eucharist is one of community's most visible forms. Receiving Communion is more than a God-and-me thing; only say the word and my soul shall be healed. The list can go on and on!
What word do you need to heal your soul? By the grace of the sacrament and our increasing awareness, you'll know that word. Not to fear, as the word may change, just as the need for healing can change. Use this week wisely and find the word that will heal your soul.
(Perhaps you'll find it even faster than you can solve today's Wordle!)
Till next week,
Sister Theresita