Wednesday Reflection: September 6. 2023
September 6, 2023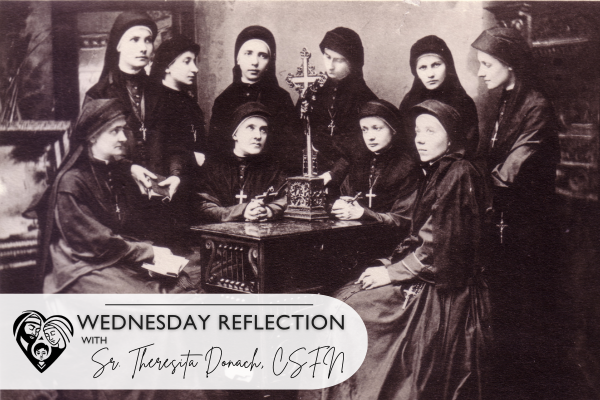 Dear Friends,
On Friday, September 8th, we celebrate the feast of the Nativity of the Blessed Virgin Mary. A small nugget of information, in case you didn't realize, is that there are only three birthdays celebrated in the Church year: John the Baptist, Jesus, and Mary.
That could be a Jeopardy question someday!
For many of the Sisters of the Holy Family of Nazareth, this feast day is extra special, as it is the day of our entrance into the community. So many of us celebrate our anniversaries on that day! Congratulations to all of my fellow Sisters who celebrate; for me, this year will be my 60th anniversary!
Part of the reason I am sharing this with you is because of a recent reflection I received that was written by Joyce Rupp.
In her reflection, Joyce speaks of a friend who has passed on and, in her remembrance of him, shared some of his thoughts. I particularly liked this quote of his, a paraphrasing of Deuteronomy 6:10-12: "Everyone has been warmed by fires we did not build, and everyone has drunk from wells we did not dig."
Joyce then shared the reality that we are all "standing on the shoulders of the ones who came before us". It brought my thoughts back to all of the Sisters who came before me, especially our Mother Foundress and our Martyred Sisters, whose feast we celebrated on September 4th.
This called to mind the words of the song Standing on the Shoulders, by Joyce Johnson Rouse. We are where we are today because we are indeed standing on the shoulders of those who came before. It was their courage, their vision, and their tireless toiling that provided the influence over our lives to bring us to our current place. We need to be grateful for them!
As we begin this new month, 'new year', take the time to think about all those people whose shoulders we stand on, and make sure to say a prayer for them. If they are still in your life, why not write them and thank them for being a part of your growth and making you the person you are today?
Have a blessed week,
Sister Theresita