July 18: Wednesday Reflection
July 18, 2018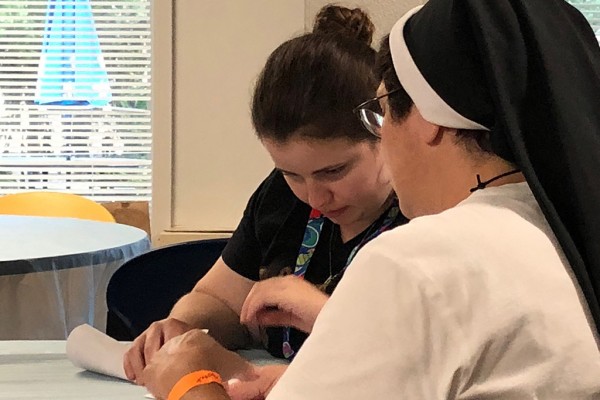 Dear Friends,
Two heads are better than one. We have certainly heard that before. If you are fortunate enough to have had Catholic sisters in your parish, you may be familiar with watching the sisters come in two by two for Mass or other services. Or, maybe you are familiar with Jesus sending out the Apostles two by two.
Each of us needs one another. We were never meant to journey this life alone. Whether we are connected with family, community, ministry, marriage or friendship, it is good for us not to be alone. Jesus knew that there were difficult days ahead for the Apostles, so he made sure they knew they could rely on one another.
Each of us needs to be able to share our challenges and joys with people who care for us and believe in us. The Apostles grew in support of one another because they were challenged and changed by Jesus' message. He lived what he preached and modeled a way of life that he wanted them to follow. Travel light, support one another and move on when you are not accepted -- a simple way to live and yet difficult to accomplish.
Today, so many people think that they can do it on their own and don't need help. Power and importance have taken over our thinking. Interesting enough, Jesus rarely showed his power or authority and when he did he asked that it be kept quiet. That is simplicity in its most beautiful form.
How do we support others? Do we live simply? Is more always better? What are we willing to give up so others can just live? How do we create trusting relationships where we can agree to disagree and be supportive? I don't have answers, just questions. I need to sit with these questions and bring them to prayer.
During this week, look at your life and ask the hard questions. Sit with them. How do you contribute to making this world a better place to live? What can you change your life so that you can model the simple yet rich life of Jesus? Each of us will have a variety of answers. May the answers you seek continue to bless you along your life's journey.
Till next week,
Sister Theresita
(Pictured: Sr. Mary Anthony Lovezzola, CSFN, working with a C.R.E.W. attendee during this summer's service and community-building program for young women ages 14 – 18. C.R.E.W. stands for Community Rocks Everyone's World and is a week-long service program created by the Sisters of the Holy Family of Nazareth. For more information, please visit C.R.E.W. on our website.)