The Manor Fish Condo: Sr. Aquinas and her fish named Kyle
August 16, 2018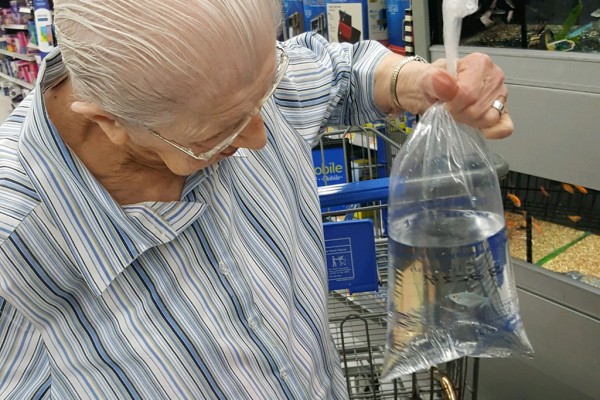 By Sr. Antonina Gadacz, CSFN
One day, Mr. Kyle Dickey, kitchen manager with Metz Culinary Management, came into my office with a surprising request. He said, "I really enjoy all the Sisters living with us here at The Manor, and I would like to get them something that would add more joy and happiness than they are already sharing as a group." He wanted to get them a fish aquarium. After a short conversation, we agreed to let him make it a surprise. He spun on his heels, and back he went to the kitchen.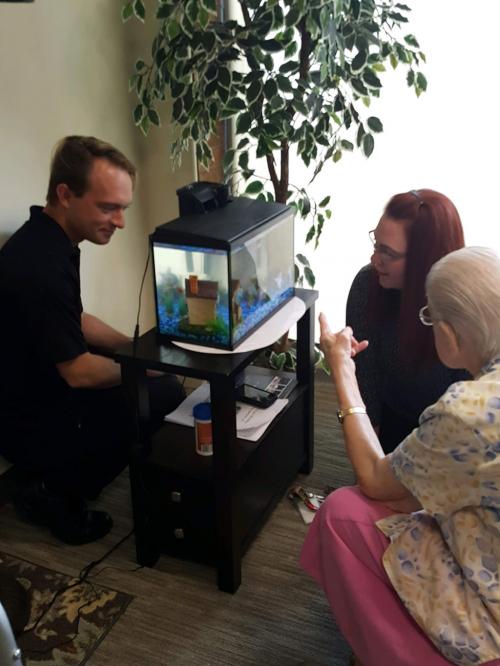 A few days later after lunch, Sr. Aquinas Tolusciak* stopped me and said, "Antonina, we have an aquarium! Did you buy it? Did you see it?" I said, "No, but I know that Kyle wanted to do something for the Sisters." Sr. Aquinas did not believe me. We went to check out the fish tank. This was just the beginning of the "Manor Fish Condo."
Sr. Aquinas said to me, "I need to buy a fish, and I am going to name it Kyle." She laughed so hard. She was determined to get her own special fish to name Kyle.
About a half hour later, I took Sr. Aquinas out to buy one more fish.
At the store, Sr. Aquinas looked around at all the fish before she decided which to buy. She insisted that she needed to talk to Kyle about the color of the fish that she chose. After she talked to Kyle and chose the fish, she kept saying, "This is my fish, Kyle." Once we were back in the car and driving back to The Manor, she made sure that her "Kyle" was comfortable. We had so much fun shopping for this very important fish.
Once we were back at The Manor, someone asked Sr. Aquinas, "Why did you want to buy a fish and name it Kyle?"
She answered with a big smile, "I did it because I care about the people that are kind to us and love us. Sometimes we have a tendency to take things for granted or feel that we deserve it. This is wrong."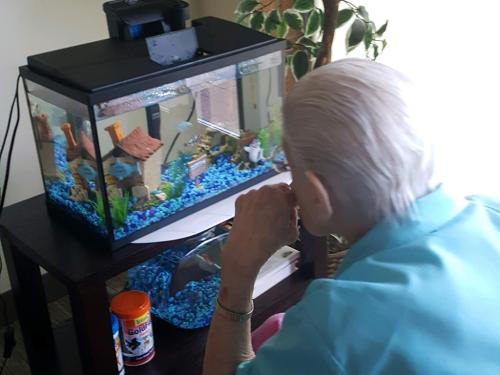 She continued, "Kyle did not have to do it. He did it because he wanted to, and because he cares about us. I bought the fish to show him how much I appreciated his kindness and the gift, and to show him how much I love it. These small things make a difference in our life. They give us a new topic of conversation, and bring us a little more joy here at The Manor. However, the most important part is that it helps us to build The Community at Holy Family Manor. I absolutely love it."
* * *
*Sr. Aquinas celebrated her 85th year of religious life and her 101st birthday this year.
The Community at Holy Family Manor serves families from infants through senior care.. "The Manor," as it is commonly known, offers childcare, a personal care facility and housing services to seniors and disabled persons.