Feast day of Blessed Mary Stella and her Ten Companions: September 4
August 24, 2018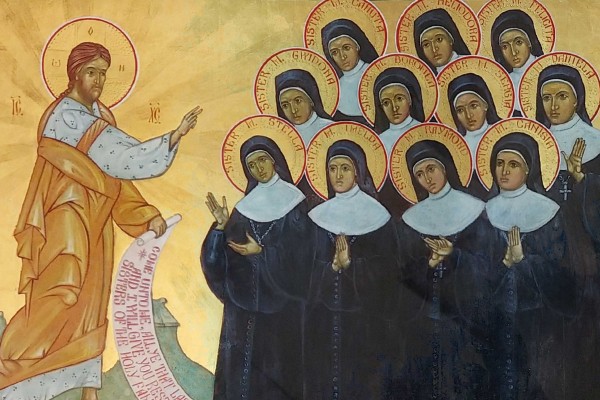 On September 4, we join with other Sisters of the Holy Family of Nazareth from around the world and our friends of Nazareth in celebrating the feast day of Blessed Mary Stella and her Ten Companions, our Martyred Sisters of Nowogrodek. These 11 sisters sacrificed their lives on August 1, 1943. At their beatification on March 5, 2000, Pope John Paul II declared September 4 as their feast day.
In the Foreword to Blessed Mary Stella and her Ten Companions: Memory, Testimonials, Graces, a spiritual notebook published by the Congregation in 2015, Mother Jana Zawieja, CSFN, Superior General, writes, "In taking her vows, every Nazareth sister requests that the sacrifice of her life be accepted. Would Sister Stella, when saying these words, have at all foreseen that these words would come true in her life in such a literal way? Would the other Sisters, who by God's Will later joined this Community of Martyrs, be able to foresee this? Certainly not. This plan was known to God alone."
We invite you to read more about Blessed Mary Stella and her Ten Companions in one of the Congregation's spiritual notebooks available online by clicking here.
Mother Jana concludes her Foreword with these words for each of us to consider prayerfully as we remember our Martyred Sisters: "May we be moved by what we read in the pages of this Notebook, and may we be capable of giving our lives -- as a complete self-sacrifice -- to glorify God and give comfort to His people."
We would also like to share with you an acrostic poem composed by Sr. Rosarita Liebchen, CSFN, in 1998, in honor of the Martyred Sisters. Please click here to read "The Glory of Nazareth."
You may also watch this video produced by Sr. Mary Bernard Wiecezak, CSFN, in collaboration with Jason Kapell. Sr. Mary Bernard recorded this video in 2010 in honor of the 125th anniversary of the Sisters of the Holy Family of Nazareth arriving in the U.S.
* * *
The prayer through the intercession of the Nowogrodek Martyrs is available here.