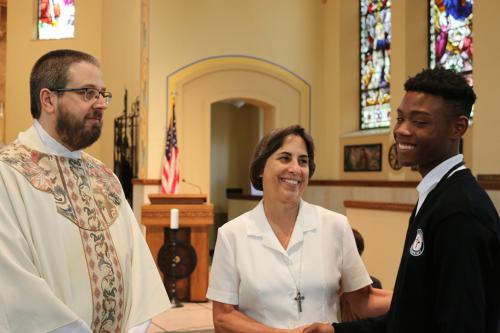 The Holy Family Service Corps Teaching Fellows Program offers participants a two year service opportunity to teach in urban schools focused on a 21st century education paradigm. Fellows can earn a Master's Degree in Secondary Education or Special Education from Duquesne University. Prospective Fellows must have an undergraduate degree in English, math, science, instructional technology, or psychology.
Program Features:
Obtain a tuition paid Master's Degree in Secondary or Special Education
Connect your passion to your profession while doing meaningful work
Live an integrated life in a community with others and experience faith sharing in the tradition of the Sisters of the Holy Family of Nazareth
Build vital skills in a hands on environment
Learn new skills to become an educator focused on excellence.
Hone your discipline with responsibility and reasoning
Spiritual immersion
Serve the common good
An ecumenical atmosphere open to diversity
The program is a collaboration between Duquesne University and Holy Family Service Corps
Education immersion experience occurs at Nazareth College and Career Prep or Holy Family Institute's Specialized Learning School
Teaching fellows will receive a modest stipend and room and board in a community setting
The program considers the whole person -- inclusive of social, emotional, and intellectual development.
For more information on the program's features and requirements, please contact Lynn Guerra, Volunteer Program Director at Guerra.Lynn@hfi-pgh.org or 412-766-9020 x1304.
Nazareth College & Career Prep is an independent Catholic high school in Pittsburgh that offers a unique internship program to prepare students for their future careers in the real world.
Holy Family Institute's Specialized Learning School is a licensed, private school for elementary and secondary students whose needs are beyond the resources available within the public school system.
Duquesne University in Pittsburgh is one of the nation's top Catholic universities, offering academic programs in nine schools of study.