To share messages of remembrance about a recently deceased sister please visit our Message of Remembrance page.
To make a donation in memory of one of our sisters, click HERE.
Are you looking for a Sister who served in your school, hospital, parish or other ministry?
Please complete our Find A Sister form.
Sr. Ann Marie Cwick (1955 - 2019)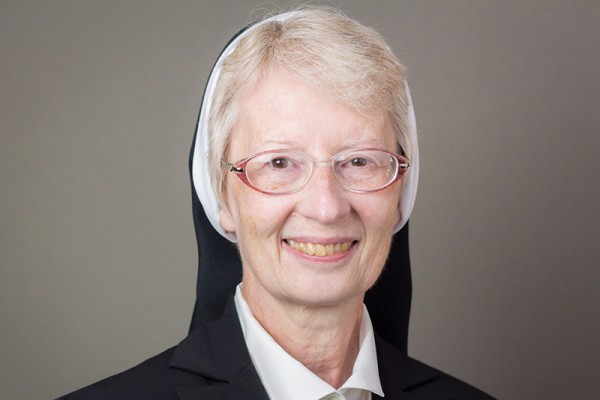 June 7, 1955 – November 21, 2019
Sr. Ann Marie was a private person with a gentle presence. Kind, helpful, organized, and disciplined, she used great care when fulfilling the responsibilities entrusted to her. A faithful and loyal friend, Sr. Ann Marie supported others in quiet, often hidden ways.
Born on June 7, 1955, she was the oldest of the five children of John and Lorraine Cwick. Baptized Patricia Ann (Pat) at St. Adalbert Church in the Pilsen neighborhood of Chicago, she attended the parish school and always spoke with affection about her old neighborhood. As a young teen, Pat attended Holy Family Academy in Chicago and, following in her mother's footsteps, served as a volunteer and later as a nursing assistant at St. Mary of Nazareth Hospital (now AMITA Health Sts. Mary and Elizabeth Medical Center). She would later dedicate 34 years to ministering as a medical-surgical and oncology nurse at St. Mary's, holding in her heart with special care and prayer those who suffered from cancer.
She entered the Congregation in 1973 and professed her perpetual vows on in 1981. She attended Oakton Community College in Des Plaines, IL and St. Mary of Nazareth School of Nursing in Chicago. She was awarded her certificate as a registered nurse in1980. She earned a bachelor's in nursing from DePaul University in Chicago in 1990 and a master's in pastoral ministry from Catholic Theological Union in Chicago in 2007.
In her free time, Sr. Ann Marie helped in parish ministry at St. Helen's, St. Mark's, St. Malachy, and St. Ann in Chicago. She also fearlessly ventured into violence-stricken neighborhoods, bringing comfort, spiritual help, and human kindness to those in need.
In 2013, Sr. Ann Marie left her much-loved ministry at St. Mary's, the last Sister of the Holy Family of Nazareth to minister at the hospital founded by our sisters in 1894. In God's mysterious plan, the move from St. Mary's opened a new avenue for Sr. Ann Marie to begin working as a parish nurse at St. Cornelius Parish in Chicago where she ministered until she became terminally ill with cancer in the summer of 2019.
Sr. Ann Marie loved architecture, history, and music. She also enjoyed playing her cello. When she retired, she wanted to learn to dance and sew. Unfortunately, that was not to be. With quiet, courageous strength, she faced her rapid decline and approaching death, offering a great witness to all of us.
Sr. Ann Marie engaged fully in the final details of her life's journey, choosing the readings for her funeral Mass, selecting the clothes she would wear which included the shoes she wore for celebrations. She died peacefully on November 21, 2019 at Resurrection Hospital in Chicago. Her Mass of Resurrection was celebrated November 25 at St. Cornelius Church in Chicago.
If you would like to make a donation in memory of Sr. Ann Marie, click HERE.
. . .
To read Sr. Ann Marie's vocation story which she wrote for St. Cornelius Church, please visit Sisters' Stories: Destined to be a sister.