An Encounter with Thoreau
June 25, 2019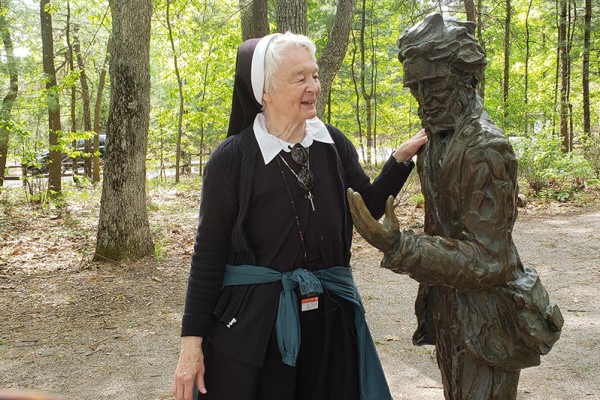 By Sr. Frances Smalkowski, CSFN
Recently, I was blessed with a work scholarship to spend five days studying Thoreau, Emerson and Transcendentalism at Pilgrim Pines in Swanzey, NH. There is no dearth of information on these eminent writers nor others who shared in their circle in the early 1800's. Because I have been asked to offer some insights from that experience, I continue in that spirit.
Striking to me is that there seems to be a return to and/or a longing for much of their philosophy and spirituality in today's world. Optimism; individuality; mysticism; the essential unity of all thoughts, persons, and things in the divine world; love of nature; originality; simplicity; and, independence -- these are some of the many themes in their writing, in their lectures, and in their living. I offer a few of Thoreau's quotes that I find especially challenging and contemporarily poignant:
"It is not enough to be busy, so are ants. The question is: what are we busy about."
"Live your beliefs and you can turn the world around."
"The question is not what you look at but what you see."
This last quote made me smile midway into my week. There was something beneath my double bed; I figured – no, I was sure -- that it had been forgotten by a previous occupant. As the days passed by, I wondered creatively what it was instead, of course, actually trying to access it. It was amazing how my thoughts constructed not only what it probably was, but also great stories related to "it." Finally, the day I was leaving I got brave enough to try to reach it and pull it out. And, I did so very carefully!
Was I surprised! It was nothing related to what my thoughts fabricated. It was simply a rock to hold the door open. I thought to myself, "So much wasted energy."
I wondered, too, what held me back from a simple encounter with the "unknown" and, instead, kept me in my illusory world. I thought how true it was that oftentimes I "look at" and don't really "see," as Thoreau wrote. Because of this habit, there is so much around me I miss or judge or incorrectly and unkindly label and write off.
I was most grateful to be able to participate in this Road Scholar (formerly, Elderhostel), as well as to my other transcendentalist mentors who included Margaret Fuller and Louisa May Alcott and her father. My generous sponsors were the Evangelical Covenant Church, East Coast Conference, who also invited me to return.
* * *
Sr. Frances Smalkowski entered the Sisters of the Holy Family of Nazareth in 1960. She currently ministers as Director of Pastoral Care at St. John Paul II Center in Danbury, CT. She was recently published in Learning to Heal: Reflections on Nursing School in Poetry and Prose, Jeanne Bryner and Cortney Davis, Eds. Her adventures in skydiving have also been featured in our Sisters' Stories available on our website at "A Ministry in the Sky."