Welcome our new service corps volunteers
September 26, 2019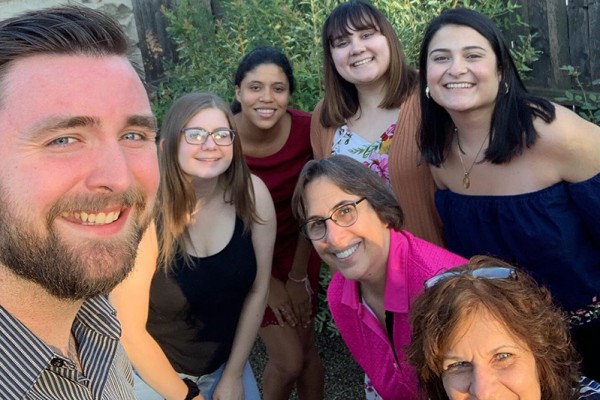 On August 12, Holy Family Service Corps (HFSC) welcomed five new members for the 2019-2020 year: Ryan Crawford, Julia Natala, Adele Smith, Keilah Gussie, and Maria Montoya. Ryan, Julia, and Adele are participating in HFSC's Teaching Fellows Program and will be serving at Nazareth Prep, a CSFN sponsored ministry and independent Catholic high school in Pittsburgh that offers a progressive, real-world based education to prepare students "to be the designers of the future." Maria and Keilah are volunteering with HFSC's Nazareth Year program and are serving in other ministries at CSFN-sponsored Holy Family Institute (HFI).
Ryan, from Hershey, PA, is a 2019 graduate of Duquesne University in Pittsburgh with a degree in theology. Ryan will support Nazareth Prep's religion classes as a co-teacher. Julia, a native of Pittsburgh's Springdale area and a 2019 graduate of Seton Hill University in Greensburg, PA, will co-teach cultural literacy at the school. Adele, from Oakdale in the Pittsburgh area, is a 2019 graduate of Penn State and will pursue a special education degree at Duquesne University. In her role at Nazareth Prep, she will assist first year students as an advisor as well as support students who have special needs.
Maria, who is from Honduras, will serve at HFI's Journey of Hope program, providing nurturing and loving childcare for unaccompanied minors who are waiting for sponsorship in the U.S. Keilah, who is from Jacksonville, FL, will serve as an AmeriCorps VISTA member at Holy Family Institute's Specialized Learning School, facilitating the development and growth of a literacy reading program. This program will include the development of curriculum for use in timed reading sessions and the recruitment of volunteers to conduct the timed reading sessions with students in first through sixth grade.
For more information on our opportunities for long- and short-term service, including the Teaching Fellows Program, please visit our Service Corps page.