A Brief Account: The Journey of the Message of the Devotion to the Mercy of God
October 18, 2019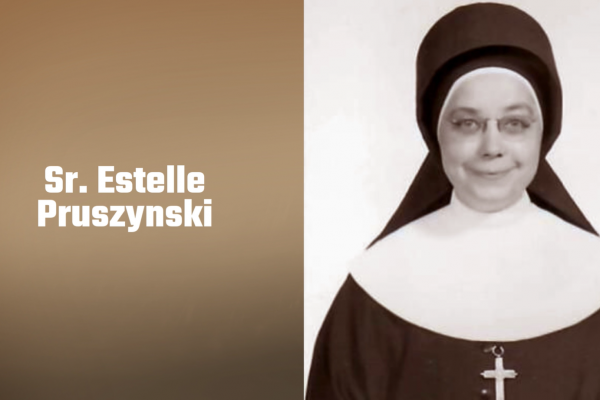 As told to Sr. Rose Mary Modzelewski, CSFN, by Sr. Estelle Pruszynski in February 2003
Editor's Note: We invite you to watch the video "Treasures Found Within: Sr. Estelle Pruszynski's story" which contains images of Sr. Estelle's passport, documenting her journey. Then, read the story as told to and written by Sr. Rose Mary Modzelewski. Sr. Rose Mary passed away in February. Sr. Estelle passed away in 2011.
Sr. Estelle Pruszynski was sent from St. Joseph Province, Pittsburgh, PA as a young sister who had made her temporary profession [of vows] to Poland for studies. She was a student in Warsaw for a year and a half, and then went to Wilniusz [Vilnius] for three yearswhere she completed her studies in mathematics, physics, Latin and Polish. She remained an extra year in Poland (1941). She would then go to Rome where she would make her perpetual vows at Machiavelli [the CSFN Motherhouse in Rome].
While in Poland, she met Fr. Michael Sopocko who was a professor at the university. He was also the spiritual director of Sr. Faustina [Kowalska], who related to him the revelations she had from the Merciful Jesus. He encouraged her to put them down in writing; her six ­hundred page journal contained their message. Sr. Faustina died in 1938, and her message to spread devotion to the Mercy of God would live on, first spreading throughout Poland and later, throughout the world.
The part that Sr. Estelle played in the spread of the devotion was a simple but heroic one. Fr. Sopocko met with her on occasion, and he would relate the story of Sr. Faustina and her revelations, to her.
One day, upon her way home, she met Fr. Sopocko, and he invited her to go pray in the nearby church. It was in this church that a painting of the image of Jesus hung on the wall on the right side of the main altar. Sr. Estelle told the priest that she had already been there to pray and that she had a great devotion to the Mercy of God. He was elated upon hearing this. The devotion to God's Mercy began to spread throughout Poland through the promulgation of Cardinal Wisinski.
Fr. Sopocko knew that Sr. Estelle would be returning to Rome and eventually to the United States. He entrusted her with a sacred mission; she would carry the message (revelations) of Sr. Faustina to be delivered to the proper authorities. He wrote the message upon a piece of cloth measuring approximately one foot in width and had it sewn in the hem of Sr. Estelle's habit; there, it would be hidden ... (it was the time of World War II, and everything was under suspicion) - the message would not be noticed as part of her habit. She would be on her way to Rome, and her journey would be three days and nights by train. She was told by Mother Fides that on every stop she would make, she was to get in touch with the Red Cross workers and have them notify our Sisters in Rome of her whereabouts. If anything happened, if she were detained or lost, they would know where she was.
Sr. Estelle finally reached her Roman destination. The piece of material with the message was given to Mother Lauretta who would give it to the proper authorities in Rome.